The steps belong to the Pool of Siloam, built 2,700 years ago, which was part of Jerusalem's water supply system.
Archaeologists from Israeli institutions recently unearthed eight 2,700-year-old steps in Jerusalem at the Pool of Siloam, the place where, according to biblical texts, Jesus healed a man's blindness.

"The ongoing excavations within the City of David, the historic site of biblical Jerusalem, particularly the Pool of Siloam and the Pilgrimage Trail, serve as one of the greatest affirmations of that heritage and of the ancient link that Jews and Christians have with Jerusalem"Ze'ev Orenstein, director of international affairs at the City of David Foundation, told Fox News. "Not simply as a matter of faith, but as a matter of fact," he added.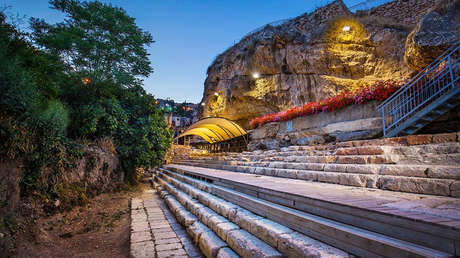 The Pool of Siloam is an archaeological and historical monument located in the southern area of ​​the City of David. Built about 2,700 years ago, the pool was part of Jerusalem's water supply system during the reign of King Hezekiah (716/15–687/86 BC) and is mentioned in the Gospel of John in the healing episode of a blind man The pool was destroyed after the fall of Jerusalem in the year 70 and over time it was covered by sediment caused by the winter rains.
The "most significant half mile on the planet"
During the execution of some infrastructure works carried out by an aqueduct company, some of the pool steps were discovered, by chance, in 2004. Regarding all the restoration and conservation efforts that are being carried out, Orenstein explained that , within a few years, visitors will directly appreciate historical places and will be able to "see with their own eyes, touch with their own hands and walk with your own feet on the same stones that our ancestors walked thousands of years agowhile they were heading to Jerusalem on a pilgrimage."
"The half mile [poco mas de 800 metros] passing through the City of David, from the Pool of Siloam in the south, continuing along the Pilgrimage Trail, to the traces of the Western Wall, the Southern Staircase and the Temple Mount, represents the most significant half mile on the planet"said Orenstein. "There is no half mile anywhere on Earth that means more to more people—not millions, but billions—than the half mile that is the City of David," he stressed.
If you liked it, share it with your friends!
Source: RT