The collaboration with Bizarrap exceeds 30 million views less than 24 hours after its premiere.
The Colombian singer Shakira caused a worldwide stir with a new song in which she attacks her ex-partner, the soccer player Gerard Pique, with whom she has been involved in a scandalous separation for months.
Less than 24 hours after his debut, The video has already broken records with more than 35 million views.remains in the global trends of social networks and has sparked a global debate about feminism, infidelity, independence and "revenge".
On Tuesday night, Shakira and famed Argentinian producer Bizarrap announced a collaboration. The "Music session 53" immediately sparked a wave of speculation because it was leaked that the song was dedicated entirely to Pique.
The expectation was so strong that even false versions of the lyrics circulated. But on Wednesday night the rumors were verified with the release of a video in which the singer spared no metaphors, references and direct phrases against Pique and his new girlfriend, a young woman named Clara Chia with whom he was unfaithful to Shakira.
"Women don't cry anymore, women bill"was one of the phrases that immediately went viral, since the Colombian alludes to a financial autonomy that feminists from various countries took up as their own cause.
Shakira is No 1 on iTunes USA (9 more countries), it is the most played video on YouTube so far since its launch with 31M and the song has received more than 8M streams on Spotify. "WOMEN NO LONGER CRY, WOMEN MAKE A BILL" pic.twitter.com/Dyb6yVrdPm

— ERICKGIL (@erickgil_c) January 12, 2023
Scandal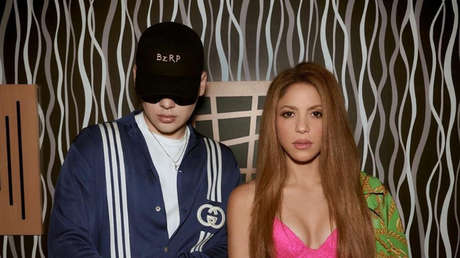 The lyrics of the song are relentless. Shakira despises Pique and Chia; she warns him that she will not return to him; Alluding to one of her many famous songs, she defines herself as "a wolf" that he doesn't deserve; she complains that he left her to live next door to her mother-in-law, with the harassment of the press and in the midst of her tax problems; compares to luxury brands he already equates the new bride with lower quality brands.
Shakira's fans were ecstatic, applauding her courage to speak shamelessly about the breakup and recalled that it is not the first time that the singer has turned her breakups into songs. In recent months, he had already dedicated the hits "I congratulate you" and "Monotonia" to Pique.
Pique dedicated his goals to Shakira with this gesture, which symbolized the date of birth of both, (February 2, 2/2, 1987 and 2/2, 1977 respectively). In addition, Pique turned Shakira into a 22-year-old girl who is twice her age. pic.twitter.com/ZW8CbzVzYl

– Melany Mora Murillo (@MelanyMora2605) January 12, 2023
But the criticisms of those who consider that Shakira continues to be "resentful" and "spiteful" also appeared; that she, out of sorority, should not have criticized Chia, only her ex-husband; that she did not think about what her two children will feel or think when they hear the song.
Together with the long threads that unraveled each word of the song and sociological explanations about relationships and duels, memes in which public figures of all kinds were involved multiplied.
For example, comparisons of Shakira with Paquita of the neighborhoodthe Mexican famous for songs like "Rata de dos patas", "Las mujeres mandan" and "Hombres malvados".
It was also reminded Taylor Swiftthe American pop star who is often criticized for talking about her breakups in her songs, to which she has responded that it is a sexist look because men also do it without ever being questioned.
Other jokes referred to Antonio de la Rua, Shakira's ex-partner to whom he dedicated some of his most classic love songs; and even the Spanish singer Alejandro Sanzwith allusions to a supposed wait for the Colombian to finally be single in order to start a romance.
In addition, the name of Briella, a Venezuelan singer who was surprised by the resemblance of the chorus of the new world hit with one of her songs. To demonstrate the similarities, she simultaneously posted both videos.
Is Shakira's new song a plagiarism? This time, Shakira copies the song "Solo tu" by the Venezuelan singer Briella. Here I leave the song and Briella's statements. It is worth remembering that Shakira has been sued several times for plagiarism. pic.twitter.com/CcC1VSpyqr

— Sweet Maria Ramos / Penelope 🖤 (@DulceMRamosR) January 12, 2023
Shakira's detractors took the opportunity to accuse her of plagiarism, a complaint that has been recurring throughout her career but without major repercussions. She keeps billing.


Source: RT