The hiring of his sister-in-law, the support of a law that benefits him and the use of trolls with money from his employees are the accusations against Alejandro Soto Reyes.
The Parliamentary Ethics Commission of the Congress of the Republic of Peru approved this Thursday the initiation of three ex officio investigations against the president of the legislative body, Alejandro Soto Reyes.
Unanimously, The conclave decided to investigate him for the hiring of his sister-in-law; for having promoted a law for personal benefit in order to evade prosecution; and the contribution of money from three employees of his office, for the implementation of trolls to defend him on social networks.
🔴 #The last | The Parliamentary Ethics Commission unanimously approved to begin investigations against the president of Congress, Alejandro Soto Reyes. He will be investigated for hiring the sister of the mother of his son, for her vote in favor of the law that… pic.twitter.com/t5SnAbfgPk

— Epicentro.TV (@Epicentro_TV) August 31, 2023
Congressman Diego Bazan, who chairs the Ethics Commission, reported that they will prepare the final reports of the three complaints within a maximum period of three months, according to the local newspaper La Republica.
In a brief statement, before voting for the complaint about the employment of Soto's sister-in-law between August 2021 and July 2023, legislator Jorge Marticorena described this issue as a "difficult assignment".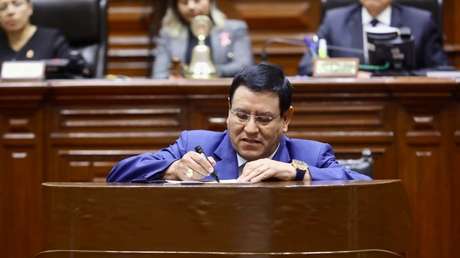 controversial president
Soto Reyes, who has been in office for just over a month, is involved in controversies due to the serious accusations spread in the media, for which some groups They seek the presentation of a motion of censure against him.
In fact, last week the Attorney General's Office began preliminary proceedings as the alleged perpetrator of the crime against the public administration in the form of concussion.
This Thursday The Commission evaluated three complaints and discarded three othersbased on the regulations of Congress, which establishes that only parliamentarians who violate the code of ethics during the exercise of their functions can be investigated.
One of the dismissed accusations points to the purchase of a house for $252,000 with alleged money obtained from a scam.


Source: RT