Two members of the environmental group Letzte Generation held the protest on Wednesday afternoon moments before the start of a concert.
Two members of the environmental group Letzte Generation (Last generation, in Spanish) stuck to the lectern of the conductor of the Elbphilharmonie, in the German city of Hamburg, just before the start of a concert. With their action, the activists demanded a greater commitment to the fight against climate change.
In images shared by the group on Twitter, a woman and a man, both dressed in high-visibility vests, are seen taking the stage and standing on the director's podium to address the audience. Environmentalists have called for resistance to what they see as a wavering climate policy of the German government.
++ Festgeklebt bei Beethoven-Konzert ++"Wollen wir wirklich unseren Kindern die Lebensgrundlage nehmen, weil es zu bequem ist etwas zu ändern?"Genau wie es nur ein Violinkonzert von Beethoven gibt, haben wir nur diesen einen Planeten. #Elbphilharmoniepic.twitter.com/d9AzeK8Je5

— Letzte Generation (@AufstandLastGen) November 23, 2022
The couple glued themselves to the music stand with instant adhesive shortly after 8pm on Wednesday, moments before the start of a concert by the Saxony State Orchestra. Soon after, the two were separated from the podium and taken away by law enforcement, a police spokesman said.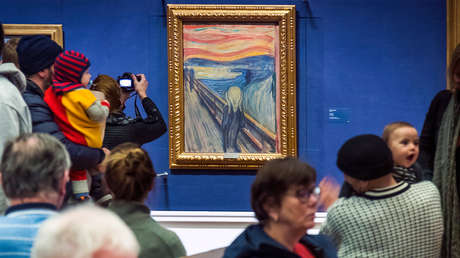 "Just as there is a single Beethoven violin concerto, we only have this planetwhose limited resources we despise so much, that climate-related catastrophes are becoming more frequent and deadly," an activist is heard saying in the video. "We will no longer have the Elbphilharmonie to enjoy Beethoven when hamburg is under water", he added.
Museums as a place for environmental protests
In recent weeks, various museums in Europe have been the scene of climate protests involving works of art.
Last Friday, members of the same organization that demonstrated in Hamburg bombarded a car decorated by the American artist with 8 kilograms of flour. Andy Warhol, at an exhibition in Milan, Italy. Another work by the 'pop art' legend was the subject of a similar protest on November 9, when a couple of activists glued their hands to their famous 'Campbell's Soup Cans'on display at the National Gallery of Australia, and sprayed the paintings with a spray of blue paint.
Earlier that same week, two members of the group poured a black liquid on the painting. 'Death and life' by Gustav Klimt, which is on display at the Leopold Museum in Vienna (Austria). Another incident in this same city took place at the Natural History Museum, where two environmentalists stuck their hands to the pedestal of a dinosaur skeleton.
On October 27, activists from the group Just Stop Oil ('Simply stop oil', in Spanish) vandalized the famous painting 'The girl of the pearl'exhibited in the Mauritshuis museum in The Hague, the Netherlands, for which they were sentenced to two months in jail.


Source: RT