The country accused an exhibition at the National Museum of Antiquities in Leiden of "falsifying history" with an "Afrocentric" approach.
Egyptian authorities have banned a Dutch museum from excavating a necropolis in response to an exhibition portraying African-American artists as rulers of ancient Egypt.
The country accused the Leiden National Museum of Antiquities (RMO) of "falsify history" with a "Afrocentric" approach" at his exhibition 'Kemet. Egypt in Hip Hop, Jazz, Soul and Funk', reports NRC citing an email sent by the head of Foreign Missions of the Egyptian Antiquities Service.
The exhibition, inaugurated at the end of April, shows various Egyptian historical figures represented by a series of African-American starswhich includes Beyonce and Rihanna as Queen Nefertiti, rapper Nas as Tutankhamun, and actor Eddie Murphy as Ramses.
In this context, the Egyptian antiquities authorities have prohibited the presence of Dutch archaeologists in the Sakkara cemetery, located near Cairo, where the museum had been conducting excavations since 1975.
Appropriation of Egyptian culture
Shortly after its opening, the exhibition received a wave of backlash on social media, with accusations of participating in the appropriation of Egyptian culture. In response, the museum released a statement arguing that the exhibition explores ancient civilization through jazz, soul and funk music to "showcase and understand ancient Egyptian representation and messages in the music of black artists."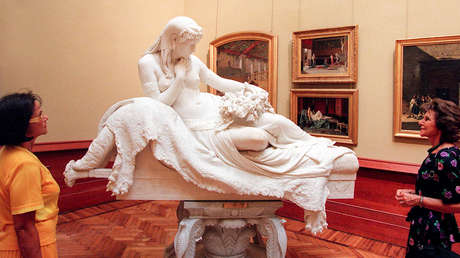 In addition, they defended that the exhibition "analyzes how ancient Egypt has been studied from Eurocentric and Afrocentric perspectives", through objects and elements of music that "reveal biases in historiography and counteract racism against blacks".
The director of the RMO, Wim Weijland, regretted the ban on his specialists and rejected the "inappropriate" accusation of falsify history.
"This exposure has been done with great care. Scientists do not accuse each other in this way. Therefore, I want that qualification removed," he said.
Likewise, curator Daniel Soliman, who worked on the exhibition, said he was surprised by the response from Cairo, since no Egyptian representative has visited it.
"Egypt can run the dig however they want, because it's their country, but their reason for doing this is wrong. No one has come to see the exhibit, and no one from the Antiquities Service has contacted us about its contents. All the riot comes from images taken out of context", he expressed.
Source: RT