The defense ministers of both countries discussed a strategy to deal with violence and lay the foundations for effective military cooperation.
Ecuador and Colombia are preparing a joint plan to combat drug trafficking and criminal groups in the common border area, the Ecuadorian Ministry of Defense reported on Tuesday.
During a virtual meeting held this Tuesday, the defense ministers of both countries, the Ecuadorian Luis Lara and the Colombian Ivan Velasquez, reiterated their intentions to give continuity to the implementation of the Border Protection Planagreed by the military high command at the end of last December.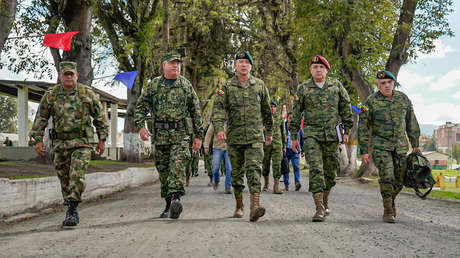 The meeting made it possible to analyze a joint strategy to confront violence and lay the foundations for a effective military cooperation against irregular groups and organized crime gangs dedicated to drug trafficking.
After the meeting, the senior officials signed a joint declaration consisting of seven points. The main issue is the preparation of a bilateral military plan that allows for the coordinated use of the armed forces on the border "particularly for the fight against drug trafficking with the purpose of dismantle their criminal structures and affect their sources of financing".
In addition, they promised to consolidate the coordinated work and the exchange of information between "the Armed Forces, Military Forces and Police of both countries" through technical security and mutual trust-building mechanisms.
Likewise, they will have the Air Forces for "strengthen the exchange of information interagency and the execution of coordinated operations for the detection and interdiction of unidentified traffic in the framework of the surveillance and control of their airspaces".
Source: RT