The country's health surveillance agency said last August that medications containing the substance "are dispensed under strict control measures."
In Ecuador, alerts have been raised because people have been shown to have symptoms similar to those caused by the consumption of fentanyl, the so-called "zombie drug", which has generated a public health crisis in the United States.
In mid-August, professionals from the 'Citizen Action for Care and Prevention of Drug Consumption' program at the Bicentenario Hospital of Guayaquil, in the province of Guayas, reported that in that health center there have been cases of drug-consuming patients who have symptoms related to fentanyl.
Fentanyl, according to a note from the World Health Organization (WHO), is a powerful synthetic opioid that is used as an analgesic and anesthetic. "It is approximately 50 to 100 times more powerful than morphine"says the agency, which points out that in several formulations it appears on the WHO Model List of Essential Medicines.
However, the institution says, this substance and its chemical analogues have been linked to a rapid increase in the number of deaths due to opioid overdose. "There is evidence that drug traffickers may be adding fentanyl to their products (such as heroin) to increase their potency and selling fentanyl as counterfeit tablets, created to look like prescription drugs," he says.
It is called the "zombie drug", says the Mayor's Office of Guayaquil in a press release, because consumers lose some of their motor skills, they can remain standing, but they lose track of their surroundings.
🇪🇨 | ALERT IN ECUADOR: Authorities fear that fentanyl is already circulating in the country. A person in Guayaquil presents symptoms related to fentanyl consumption. Authorities are beginning to detect symptoms in users of other drugs who could be… pic.twitter.com/TOk1IkmFZP

— World Alert (@AlertaMundial2) September 3, 2023
The professionals of the 'Citizen Action for Attention and Prevention of Drug Use' program warned about the drug "hache", which includes heroin and a mixture, in unknown percentages, of diazepam, fentanyl and other substances chosen by the person who makes it.
"Pain in the body is one of the effects after drug abuse, but doctors detected that this symptom It is getting stronger and longerwhile the periods to consume again are shortened," says the Mayor's Office.
Likewise, they point out that another factor that activates the alerts is that some patients no longer respond to the treatments applied.
Control
At the beginning of August, the National Agency for Health Regulation, Control and Surveillance (Arcsa) of Ecuador reported that "The active ingredient fentanyl is classified as a narcotic drug" and, therefore, medicines that contain this substance in their composition "are subject to special control measures."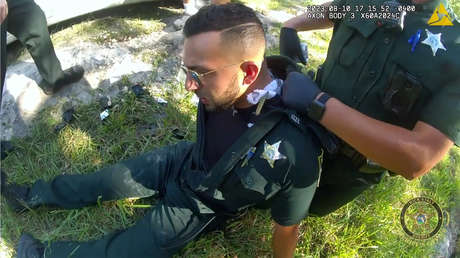 Thus, the institution points out that in Ecuador, "medicines containing fentanyl are dispensed under strict control measures, which are maintained throughout the marketing chain."
The measures include operating and qualification permits, as well as import and export licenses to authorized establishments. Also, monthly report of all transactions and sales only under prescription in special prescriptions in pharmacies.
"These control measures, which are carefully executed, allow us to maintain the traceability of medications that contain fentanyl," Arcsa emphasizes in its statement.


Source: RT