"By consenting to the crimes of the kyiv regime and ignoring them, Washington supports murderers who deserve neither forgiveness nor justification," they said from the Russian Embassy in the North American country.
The Russian Embassy in the US repudiated on Tuesday the comments of the US representative to the special mission for International Criminal Justice, Beth van Shaack, on the execution of captive and unarmed Russian soldiers by Ukrainian troops.
From the diplomatic mission they emphasized that van Shaack refused to "directly condemn" the massacre, despite the fact that American media such as The New York Times did not ignore what happened and confirmed the authenticity of the videos showing the atrocities. In this sense, they stressed that such an attitude of the White House is "a double standard at its finest".
In addition, the Russian body criticized the "cynical" tone of the Washington diplomat who insinuated that the alleged war crimes perpetrated by Russian troops are recorded "many times more" than those of Ukraine. "The Department of State, as before, did not provide any evidence of the acts of violence allegedly committed by our military," they argued.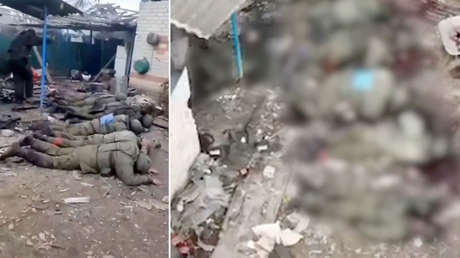 "Washington supports murderers who do not deserve forgiveness or justification."
At the same time, they pointed out that the killing constitutes "a flagrant violation" of Geneva Convention on the prisoners of war of 1949. In this sense, they reiterated that the Ukrainian captives are being held "in full accordance" with the provisions of international humanitarian law.
"Isn't it clear that the US, by covering up the frenzy of Ukrainian bandits, promotes permissiveness and impunity for neo-Nazis? […] By condoning the crimes of the kyiv regime and ignoring them, Washington supports murderers who deserve neither forgiveness nor justification. We must always remember: he who sows wind reaps storms," ​​reads the official statement.
On the other hand, the Embassy asserted that the White House and its Western allies "they don't even criticize" to kyiv that "he has not yet been punished for his crimes."
Likewise, he pointed out that in the collective West "everything is 'forgotten' very quickly" and recalled the murder of Daria Dugin, daughter of the influential Russian philosopher Alexander Dugin; the bombing of a jail with captive ukrainian soldierss in Donbass that ended with 50 dead prisoners and 73 wounded; the kyiv attack on the railway station in the city of Kramatorsk in the Donetsk People's Republic (currently controlled by Ukraine), the constant shelling of Donetsk and the fire in the Odessa House of Trade Unions in 2014.
Videos showing the execution of Russian soldiers, apparently filmed in the town of Makeyevka of the Luhansk People's Republic, began circulating on the Internet on November 18.
The Russian Defense Ministry dismissed the massacre as "intentional and methodical murder", while the Investigative Committee of the country opened a criminal case.
For its part, the UN is studying the videos and has promised to carry out its own investigation to punish those responsible.
Source: RT