An eventual trade war between the West and countries like Russia and China "could lead to a fragmentation of globalization", estimates Nouriel Roubini.
US economist Nouriel Roubini, known as the 'Catastrophe Doctor' for his accurate prediction of the 2008 financial crisis, warned of new threats to world development in an interview with Le Monde newspaper.
He highlighted that the international community is currently facing several challenges in the short and long term. Among the near-term threats, he cited problems related to the conflict in Ukraine, inflation, and a financial crisis that could unfold in the next 2-3 years. At the same time, according to Roubini, there are "megathreats" in different fields that could affect world development in the long term.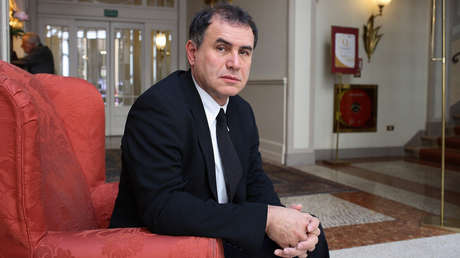 "Climate change, in the long run, if left unchecked, of course, can destroy our planet. Geopolitical tensions could escalate into nuclear war. Not to mention sociopolitical instability. Everywhere, we are seeing a backlash against liberal democracies," she noted, referring to the possible consequences of "mega-threats."
Speaking of the current economic recession, Roubini stressed that politicians and financial and banking organizations were wrong to think that inflation was a temporary phenomenon. Furthermore, he criticized monetary policy of raising interest rates of the central banks of different countries, aimed at calming inflation, declaring that "was wrong". In this sense, he cited the example of the United Kingdom, which "is on the brink of stagflation resulting from very high inflation."
According to 'Doctor Catastrophe', the application of these policies in an economy in recession and with the debt burden of countries quite high "could cause a collapse of the stock and bond markets, which could aggravate the recession". "I don't think the landing [de la economia] be soft. It's going to be severe and associated with financial stress," she added.
Roubini also commented the discrepancies between the EU and the US on the Inflation Reduction Act US, which implies some 370,000 million dollars in subsidies for renewable energy products, but only manufactured in the US. The economist emphasized that he does not believe that "this will lead to a trade war" and added that he is more concerned about the trade conflict between The West and "a group of revisionist powers" including Russia, China, Iran and North Korea, which "could lead to a fragmentation of globalization and the relocation of supply chains, increasing global insecurity."
Source: RT