The museum pieces are apparently in better condition than more than 100 vehicles that were long decommissioned and in storage.
Denmark has had to order tanks from museums to train the Ukrainian military. Three Danish museums provided the Army with six tanks so that "training could begin immediately," Forbes magazine reports.
A consortium formed by Denmark, Germany, the Netherlands and Belgium has committed to deliver 178 Leopard 1A5 tanks to Ukraine These vehicles require a crew of four people for each unit, which requires training a very large number of soldiers to operate them. The problem is that, since today this model is no longer used by most countries, we must bring vehicles that have been stored for a long time into operating condition in depots, a very long process that in turn delays the process of training soldiers at a time when they are needed as soon as possible.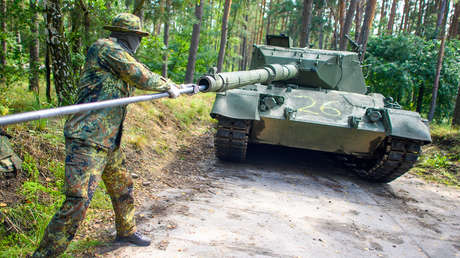 The only NATO member that continues to use the Leopard 1 is Greece, according to the outlet. At the same time, in Denmark itself, the last battle tank was withdrawn from service in 2005, that is, almost 19 years ago, and was replaced by the Leopard 2. Currently, the country has a hundred vehicles in storage, and their condition is likely to be much less satisfactory than that of museum pieces borrowed, notes Forbes.
The only armored unit of the Danish Army still has some tankers with experience in handling Leopard 1. Together with some retired soldiers who have decided to return to service and German instructors with experience in similar engineering vehicles of the German Army, they have formed a group of training. The accelerated training program will last six weeks, as many of the Ukrainian servicemen have already driven tanks on the battlefield. "There is no point in us explaining to them what they already know," the publication quotes one of the Danish instructors.
Source: RT