The analysis was done ahead of an impending House investigation into the Biden family's dealings.
The data from the laptop that, according to the owner of a Delaware state workshop, was left there in 2019 for repair by Hunter Biden, the son of the US president, contain no evidence of forgeryaccording to a study commissioned by CBS News.
Brian Della Rocca, an attorney for the store owner, provided the outlet with what he described as a "exact copy" of the data contained in the computer.
Meanwhile, Hunter Biden's attorney, Christopher Clark, said in a statement that "many attempts have been made to hack, infect, and spread misinformation" about the president's son's devices, noting that "anyone […] had obtained consent" by Hunter to access your computer data.
In this context, an independent analysis by two cyber researchers from the Computer Service in the city of Minneapolis found no evidence that the data has been altered or fabricated. No new files created after April 2019, when Hunter took the device in for repair, were also discovered.
Seeing the contents of the computer, the shop owner decided to make a copy of its hard drive, which Fox News reported was later given to Rudy Giuliani, a former New York mayor and personal attorney for former President Donald Trump. The computer, meanwhile, was confiscated by the FBI.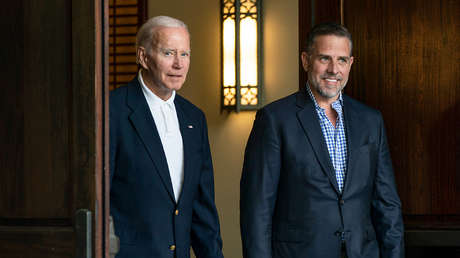 Likewise, it is reported that the FBI would have instructed its agents not to review Hunter Biden's laptop or the emails that link him to illegal business abroad until after the 2020 presidential election.
accusations
Previously, the New York Times published an article about the ongoing investigation against Hunter Biden for possible criminal violations of US tax laws, as well as alleged illegal foreign lobbying and money laundering, all based on emails obtained from the same computer and dating from April 2014, shortly after the US-backed coup in Ukraine.
Likewise, hundreds of 'emails' and documents were found on the computer that link the son of the US president with a Ukrainian company of chemical laboratories, specialized in the investigation of diseases that can cause pandemics and "could be used as biological weapons".
In addition, emails were found related to a deal Hunter struck with Chinese energy company CEFC, for which he received nearly $5 million, according to government records, court documents and bank statements.
Investigation against Joe Biden
The CBS analysis came ahead of an impending Republican-led House investigation into the Biden family's businesses, which will look at, among other things, financial transaction data contained in the computer.
In late September, 33 Republican senators demanded an investigation into Hunter. Later, the House Judiciary Committee criticized the FBI for giving "preferential treatment" to Joe Biden's son.
In addition, recently, a group of Republican congressmen accused the president of being involved in his son's controversial businesses.
"As part of our investigation, we have proof that Hunter's and Joe Biden's finances, credit cards and bank accounts were mixed, if not shared," said lawmaker James Comer, noting that on some accounts banks issued red flags about their owners, indicating suspicious or illegal activity.
At least one of those red flags allegedly "connects Hunter, Biden and their business partners to the international human traffickingamong other illegal activities," he added.
Source: RT