The Peruvian legislature will analyze whether to admit a motion presented by leftist parties to dismiss the president "for moral incapacity."
The former president of the Peruvian Congress, the current legislator Maria del Carmen Alva, asserted on Monday that the "killings" recorded during the anti-government protests "do not warrant" a vacancy motion (removal) against the president Dina Boluarte.
"On the subject of the vacancy, you have to see who is presenting the vacancy and for what issues. I understand that it is because of the 'killings' and I think that does not warrant a vacancy for that matter", declared Alva, from the Popular Action bench, at a press conference from Parliament.
However, the left does not think so. A group of progressive parliamentarians promotes a vacancy proposal against Boluarte, alleging "the excessive use of the Armed Forces and the National Police" during the protests, which took place between December 2022 and February 2023, against the removal and imprisonment of former leftist president Pedro Castillo.
"Never in the history of Peru has a government with so little time assassinated more than 40 people in demonstrations," reads the motion presented to Congress.
The report from the Ombudsman's Office details that, of the 67 deaths during the mobilizations, 49 are civilians killed in clashes with public security forces.
However, for Congresswoman Alva, behind the proposal to vacate Boluarte for those deaths in the midst of repression, there is only "a political tint and the objective is another".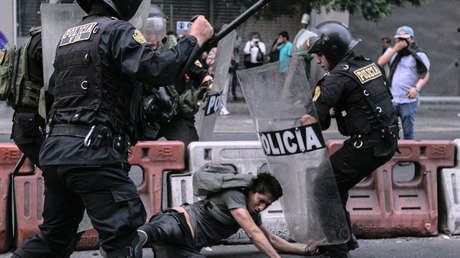 Vacancy motion against Boluarte
Next Thursday, the plenary session of Congress will vote on the admissibility of the vacancy motion for "permanent moral incapacity", a figure widely used in Peru and that has served to remove several leaders in the past.
52 votes are needed for it to be approved, 40% of legislators. If successful, another day would be set to vote on the removal, which requires 87 votes (two-thirds of congressmen) to have the green light.
Legislator Margot Palacios, from Peru Libre —one of the groups that signed the initiative— called the opposition to the presidential vacancy "regrettable" and recalled that "for minor reasons they wanted to censor" former President Castillo.
"Now, when we talk about massacres, murders, extrajudicial executions, we don't want to do anything. That says a lot about the selective way (…) as before they wanted to censor, vacate, but now (…) we don't want to do nothing. That's double standards."he said, quoted by RPP.
Source: RT