The Argentine far-right alliance La Libertad Avanza was embroiled in a scandal after a leader denounced that the charges are distributed through money or "sexual favors."
Mila Zurbriggen, president of the Libertarian Generation youth group, which was part of the conservative coalition, sparked a strong controversy this week during a radio interview in which she assured that a large part of the militancy is disappointed with the leader and presidential candidate, Javier Milei.
"There is great disappointment, not only on my part but on the part of a whole youth that is encountering a very different reality from the one they were told," said the young woman who is part of the wave of followers that Milei was able to attract with her fiery speeches against the State and the "political caste", which he usually accuses of being "privileged" and "corrupt".
"Lack of seriousness and sexual favors to access charges." The denunciation of Mila Zurbriggen, president of the youth of Milei. Her followers asked her for casteless liberalism and she gave them the most rancid she could. This is Milei👇 pic.twitter.com/zunbssfYoy

—Rober Legrant ❤️🖤 (@RoberLegrant) February 14, 2023
Zurbriggen had already denounced the anomalies with which the coalition operates on his social networks. "We cannot let any person with an air of Messianism continue to play with our illusion, a person who does not listen and who betrayed his most loyal people and who worked the most for money and dirty people," he said in reference to Milei.
La Libertad Avanza was founded in 2021 with a view to the legislative elections that took place that year and in which Milei ran for national deputy, a position she obtained along with her running mate, Victoria Villarroel, a leader known for denying the crimes against humanity committed during the last military dictatorship and for equating the repressors with the victims.
In that election, Milei, a 52-year-old economist with no major political career, established himself as the new media and electoral "star" of the Argentine ultra-right, thanks to his histrionics and his permanent criticism and insults of traditional politicians.
Why is Milei TT? Because Javier Milei chooses the women who hold positions in the party in exchange for sexual favors, this was denounced by Mila Zurbriggen, President of The Libertarian Generation of Argentina. She also accuses that young people are used only to stick banners. pic.twitter.com/t90f9MQIvw

— HonorYGloria ❤🔥 (@JoviNomas) February 14, 2023
One of the factors that drew the most attention was that a large part of the militancy that supported Milei was made up of young people in their twenties. Some of them are the ones who are now disenchanted with the leader, leading an exodus.
polemics
Since he took office as a deputy, Milei reinforced his role as an opponent of the government of President Alberto Fernandez in particular and against Peronism in general.
He also ratified his opposition to the legalization of abortion, which has been in force in this country since the end of 2020; and reiterated its support for "strong hand" policies to deal with insecurity.
The controversy has been a constant during his brief public career, be it for his proposals to legalize the sale of organs; privatize education, health and infrastructure works and allow the free carrying of arms; for promoting a fraudulent cryptocurrency company; or by his marked absenteeism in legislative sessions.
There is no worse splinter than the one of the same stick. Mila Zurbriggen does not belong to our National Resistance space. Mila Zurbriggen is the pure ruling party of Milei, her and Kikuchi's sister who is now breaking up with them. She keep in mind. She went too far with Milei by selling candidates. pic.twitter.com/86P0qBjcVf

— Carlos Maslaton (@CarlosMaslaton) February 13, 2023
With a view to strengthening her figure, Milei began to forge links with the extreme right at an international level. In October of last year, she participated in a Vox event in Madrid, where he insulted "the left-handed" and spoke out against "gender ideology".
In the midst of an oscillating popularity that rises and falls according to the current scandal in which he is involved, Milei ratified his intention to run for the presidency next October.
Some polls place it in third place, after the right-wing coalition Together for Change (in which former President Mauricio Macri participates) and the pro-government Frente de Todos.
But his pre-campaign has now been affected by Zurbriggen's complaints.
The country, the people, the media, the leaders, all deserve to know that this front is not different from any other, it does not offer anything new, nor is it going to solve anything. I'm sorry but my conscience doesn't allow me to keep quiet I'm very sorry that this happens like this. Youth must continue because whatever…

— Mila Zurbriggen (@Milazurbriggen) February 12, 2023
Disorganization
"In Libertad Avanza there is no organization, there are no instances of internal debate about which projects to carry out," Zurbriggen said in an interview in which his accusations were rising in tone.
"Everything is decided by him (Milei), his sister and a very closed group of leaders, we felt that he used us, we just put up posters. If this phenomenon exists, it is largely thanks to young people," warned the leader, referring to the boom that the so-called "libertarians" have had in Argentina in recent years.
Zurbriggen warned that women in the coalition who wear "scantly clad" are placed in high political places "or are taken to the media, without prioritizing suitability."
In summary, he said, the candidacies and spaces of power are defined by "guita" (money) or sex, despite the fact that more seriousness would be expected in a political party.
"I'm going to be very clear: it's hard for me to talk about it, but something that happens a lot in the caste (a policy that Milei often criticizes) is sexual favors. Although I don't share anything with feminism, it doesn't seem right to me. That bothered me a lot because our work is serious even though we are young," he said.
Mila Zurbriggen warned Javier Milei: "He can make all the complaints he wants to me but I will not keep quiet because it is not right. I was not going to let this front take over the youth movement." pic.twitter.com/vkfvowD6gA

— El Vigia Agency 🇦🇷 (@AgenciaElVigia) February 14, 2023
Answers
The Libertarian Generation, in which Zurbriggen and a group of "libertarians" participate, made official its departure from the far-right alliance.
"We have made the decision as young people to be an independent and non-partisan group (…) in the face of the lack of political and decisive participation that we have on the front led by Javier Milei, we will continue with the task begun prior to the appearance of the front to share and proliferate in society the ideas of freedom," he said in a releasein which they assumed that they will have retaliation.
In the midst of this new scandal, Milei denied the accusations and assured that Zurbriggen is a conflicting leader who is only interested in holding positions.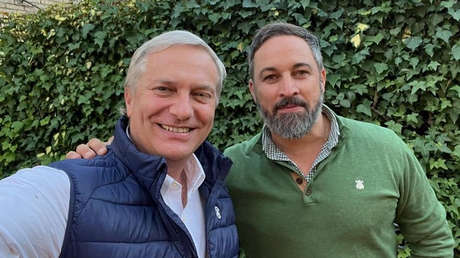 "It is his way of acting, that is why it does not last in any space. There are people who, when they don't get jobs or money, in that anger, say a lot of things. If she has all that, let her go and try it in court," she said.
The coalition, for its part, issued a release in which he insulted the former leader, although without mentioning her.
"Regarding the recent denunciations made by some militants eager for positions and economic benefits, La Libertad Avanza wants to make it clear that we are grateful for their withdrawal from space since we do not want to have anything to do with anyone who believes that this movement is an agency of placement of the State", he warned.
But the controversy is far from over, since on Wednesday Zurbriggen denounced on her networks and in television interviews that she and those who left the alliance have received death threats.


Source: RT