The opposition maintains its refusal to issue a joint position with the Government.
The president of Chile, Gabriel Boric, and the former presidents Eduardo Frei, Ricardo Lagos, Michelle Bachelet and Sebastian Pinera This Thursday they signed a document in which they remembered the coup d'etat suffered by Salvador Allende on September 11, 1973.
"For democracy: always", is the title of the writing that explains that, for more than 140 years, Chile enjoyed almost without interruption a democracy in continuous evolution, a stable constitutional order and respectable and solid republican institutions, which were the object of admiration and prestige from around the world.
"On the 50th anniversary of the violent breakdown of democracy in Chile that cost the lives, dignity and freedom of so many people, Chilean and from other countries, We want, beyond our legitimate differences, to commit together"said the signatories, since they have diverse political backgrounds but in all cases they have been democratically elected presidents.
In the first of the four points of which the document consists, the president and his predecessors undertake to care for and defend democracy, respect the Constitution, the laws and the rule of law.
📄 We share the declaration "Commitment: For democracy, always" signed by the President @GabrielBoric and all the former presidents of the Republic. "Let us take care of memory, because it is the anchor of the democratic future that our people demand" pic.twitter.com/Xv6ZdQFhZl

— Social Convergencia (@la_convergencia) September 7, 2023
"We want to preserve and protect civilizational principles from authoritarian threatsintolerance and contempt for the opinion of others," they point out.
They then warn of the importance of facing the challenges of democracy "with more democracy, never with less, condemning violence and promoting dialogue and the peaceful solution of differences, with citizen well-being on the horizon."
Divisions
In the third section, they ratify their conviction of making the defense and promotion of human rights a value shared by the entire political and social community, without putting ideology before their unconditional respect.
"Strengthen spaces for collaboration between States through a mature multilateralism that respects differences, which establishes and pursues the common objectives necessary for the sustainable development of our societies," states the last point.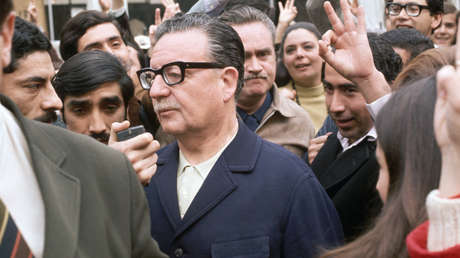 Finally, they also agree on take care of memory, "because it is the anchor of the democratic future that our people demand.
The document, which could have only been an institutional statement, acquired special relevance in the midst of the polarization that the anniversary of the coup unleashed, since the opposition refused to sign a joint message with the Government.
Boric had proposed that all political forces sign a document titled "Santiago Commitment", which mainly established the care and defense of democracy and condemned violence.
However, the parties that make up Chile Vamos, the main opposition coalition, chose to draft their own declaration, in which they invited all people to work for the future, "without attempting to impose single truths, welcoming with empathy the pain of those who They have suffered".


Source: RT