Negotiations with the Government failed again in the last meeting and the teachers returned to the streets.
Guilds of urban teachers in Bolivia staged clashes with police this Wednesday, during a new protest in La Paz demanding a higher budget for education, among other demands.
According to the newspaper El Deber, the mobilized teachers managed to enter Plaza Murillo, the political center of the Bolivian capital, but the Police responded with tear gas to evict them.
The Confederation of Urban Education Workers of Bolivia (CTEUB) has 63 days manifestingand despite the dialogue tables offered by the national government, no agreements have been reached.
In addition to shoving, the Police used paintball weapons and aerosol gases to evict the teachers who were protesting in Plaza Murillo. pic.twitter.com/08VNfPX0eZ

— ERBOL (@ErbolDigital) April 12, 2023
The Minister of Education, Edgar Pary, declared this Wednesday that from his portfolio they have been doing "in vain the efforts"to achieve a understanding on the five points raised in a petition by the teachers' confederations.
Request document
The first point has to do with the delivery of 'items', that is, permanent contracts for teachers who have been working in public education. no job stability guarantees. On this issue, the Government has said that 2,500 'items' have been awarded during its management and there are many others from previous years that have not been executed, which are being distributed.
🔵 #ANF | Minister of Education, Edgar Pary, on the recent dialogue with teachers: "The budget issue is moved so that it can be analyzed at the educational congress. This congress is in full swing and there is no turning back." (via RTP) pic.twitter.com/8EyyfR9Lh2

— Fides News Agency (@noticiasfides) April 12, 2023
Another contentious issue is the demand for more hoursabout which, the minister admitted that there is a "historical deficit", but that they are willing to solve it together with the sector, the newspaper La Razon indicated.
On the other hand, the unions demand the realization of an educational congress and a budget increase of 33%. In relation to this, Pary affirmed that the budget increase will be analyzed within this framework, the realization of which is "in full course".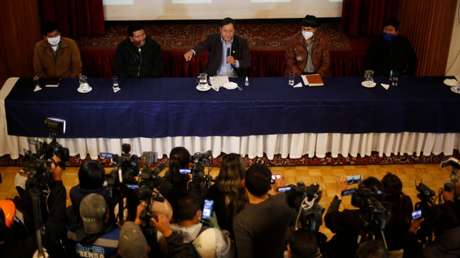 Finally, teachers reject the implementation of new curricular contents (robotics, chess and financial mathematics) because they maintain that the conditions for these subjects are not given. On this issue, Minister Pary said that there will be "flexibility" in your application.
In the last meeting, held in the early hours of this Wednesday, it was possible to bring the parties closer to these last three points, said the head of Education. However, Pary said the government authorities have received "enough insults of all kinds."
Finally, the urban teachers broke off the dialogue and resumed the protests asking for Pary's resignation.


Source: RT