The Chinese ambassador to the community bloc has also criticized Brussels' attempts to link its relations with Beijing to the conflict.
The Chinese ambassador to the European Union, Fu Cong, stated in a recent interview with the British outlet New Statesman that he understands "the importance that the EU attaches to the Ukraine crisis", but he does not "seem sensible to relate China's position on the crisis" in that country with the bilateral relationship between Beijing and Brussels, because he does not believe "it is fair for China or sensible for the EU".
In this way, the Chinese diplomat commented on the position of the EU High Representative for Foreign Affairs and Security Policy, Josep Borrell, that relations between the Asian giant and the community bloc "will not develop normally if China does not push Russia to withdraw from Ukraine".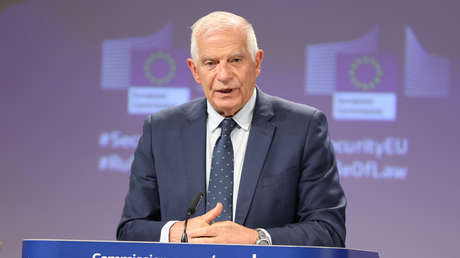 In addition, Fu Cong highlighted the "positive role in facilitating peace" that Beijing is playing to "facilitate a peaceful solution" to the conflict in Ukraine. "But it's unrealistic to expect China to take the exact position or a 100% identical position as the Europeans. Because China is not in EuropeChina's interests are different from those of Europe, and China maintains good relations with both parties," the diplomat explained.
The Chinese official also stressed that the relationship between Beijing and Brussels is multifaceted. "Therefore, we must not allow the Ukraine crisis to dominate this relationship wide-ranging. That will not be in the interest of either party," he said.
Response to possible EU sanctions
Referring to the possible 11th package of EU anti-Russian sanctions, which could also affect several Chinese companies for allegedly selling equipment to Moscow that could be used in weapons, Fu Cong said that "China has not provided any military equipment to Russiaand China has exercised extreme caution when it comes to dual-use items."
"If the European side imposes sanctions on Chinese companies without providing us with solid evidence that show that those companies are involved in activities that can circumvent or have circumvented EU sanctions on Russia, then certainly we will retaliate", he warned.
At the same time, the senior diplomat stressed that China maintains normal economic relations with Russia. "Therefore, this cooperation and normal economic activities must not be interfered with, and must not be the reason for any coercive measures on either side, be it the US or the European side," he concluded.
Source: RT