The Salvadoran Naval Force confiscated on Tuesday a semi-submersible with around 1.2 tons of cocaine almost 1,000 meters off the coast of the Central American country.
The president of El Salvador, Nayib Bukele, announced on Tuesday the seizure of a ship with drugs in which three Colombians were traveling through a message posted on his Twitter account that he tagged the account of his Colombian counterpart, Gustavo Petro.

"Our Naval Force has just seized a [semisumergible] LPV 520 nautical miles from Bocana el Cordoncillo, Estero de Jaltepeque, with 3 crew members of Colombian nationality," reads the text. "It is estimated that it contains approximately 1.2 tons of cocaine, valued in some 30 million dollars", Add.
In a Tweet Later, Bukele indicated that the operation took place 963 kilometers from the coast of the Central American country, making it the furthest seizure of illegal substances in Salvadoran history.
He also mentioned in a separate message Petrowho responded after a few hours with the following Tweet: "Another ton and a half of cocaine that falls near El Salvador, thanks to intelligence and aid of the Colombian Navy".
Previous scuffles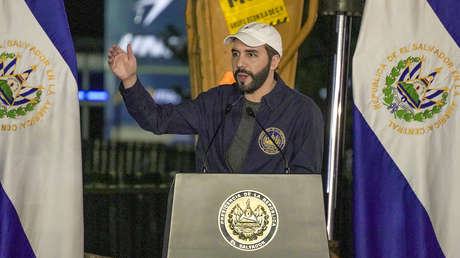 This has been the latest in a series of disagreements between the two Latin American heads of state. Earlier this month, Petro questioned Bukele's prison policy and mass arrests and described the Terrorism Confinement Center, located in the Salvadoran municipality of Tecoluca, department of San Vicente, as a "concentration camp" full of young people, where they have been Some 2,000 suspected gang members were transferred.
"Mr. Gustavo Petro. Results weigh more than rhetoric. I hope that Colombia actually succeeds in lowering the homicide rates, as we Salvadorans have achieved. God bless you," Bukele replied via Twitter.
A few days later, the leaders staged a new clash on social networks. In a tweet where it was reported that the New York Prosecutor's Office learned that two Bukele officials would have met with members of that criminal organization to agree to reduce the number of homicides in exchange for benefits for those deprived of liberty, Petro wrote that "better to make government pacts under the table is that Justice can make them on the table without deception and in search of peace ", in reference to the law of 'total peace', which establishes the mechanisms for negotiation with armed groups of political overtones and the submission to Justice of criminal organizations.
After this tweet, Bukele turned his batteries against his Colombian counterpart and wrote: "Agree. First he accuses of inhuman treatment and now they talk about 'better conditions'. Also, I do not understand his obsession with El Salvador. Isn't his son the that he makes pacts under the table and also for money? Is everything okay at home?", he blurted out.


Source: RT