"This account does not exist. Try to do another search", is the message that appears on the social network.
The president of Peru, Dina Boluarte, deactivated her Twitter account in the midst of the protests that the South American country has been experiencing for almost two months, and after users of the social network reminded her of the old messages in which she condemned repressive actions by the Police in other administrations.
"This account does not exist. Try to do another search", is the message that appears on Twitter when searching for the user @DinaErciliaof the representative.
The decision to close your profile on this platform would respond to "personal motives", according to a source from La Republica. The outlet indicates that the president would have ordered that all information on official activities be disseminated through the institutional channels of the Presidency.
Before closing her Twitter account, some people brought up old tweets that were published by the now president before arriving at the Government Palace, in which she criticized the actions of the Police.
Specifically, they reminded him of a tweet from March 14, 2019, in which he wrote: "The Police are respected, but that they are not abusive or bribery. We are tired of knowing that finding a good police officer is like looking for a needle in a haystack. Let the Police do the job of being honest police officers."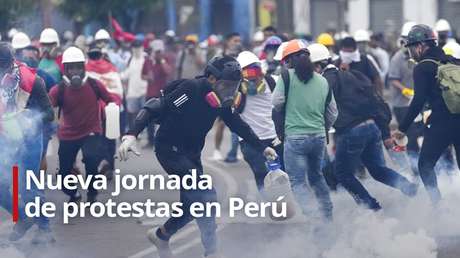 They also recalled their expressions during the brief term of Manuel Merino —of the Popular Action party—, who assumed the presidency after the dismissal of Martin Vizcarra, between November 10 and 15, 2020.
During those days there were strong protests against Merino and, in the midst of the repression, two young men died: Bryan Pintado and Inti Sotelo. That caused the departure of a good part of the Cabinet, in addition to the resignation of the then president.
On November 15, 2020, Boluarte wrote on Twitter: "Merino's coup ministers are resigning in a cascade. Killer merino, quiet".
"Accion Popular Asesinos" was another of the publications that the now president made on that occasion.
58 dead
While Boluarte closes his Twitter account, discontent against him continues in the streets of Peru. The political and social crisis that the country is experiencing under his administration has left many more dead than during Merino's term.
According to the latest report from the Ombudsman's Office, published on Tuesday afternoon, there have been 58 deaths in the context of the protests.
There are 47 civilians who have died "in confrontations", another 10 "due to traffic accidents and events related to the blockade" and one policeman "due to acts of violence in the context of the conflict", says the institution.


Source: RT