The US president would have snapped at his Ukrainian counterpart that it would be difficult for him to continue requesting money from Congress if he was ungrateful, according to The Washington Post.
A former White House official has revealed to The Washington Post that US President Joe Biden has urged his Ukrainian counterpart, Vladimir Zelensky, to stop complaining about the allegedly insufficient aid provided by the US.
According to sources from the presidential administration, the two leaders speak regularly since the Russian military operation began. Last Monday, Biden and Zelenski had another call, during which the US president promised to provide kyiv with "the necessary support to defend itself."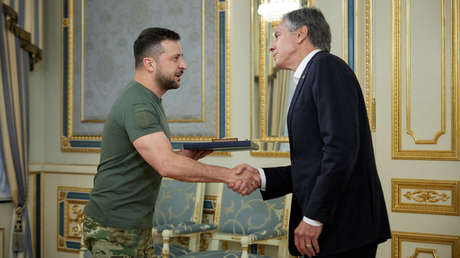 However, the relationship between the allies is not always harmonious, emphasizes the medium. In the first days of the armed conflict in Ukraine, Zelensky repeatedly and publicly called for Washington and other Western countries to send more weapons and impose tougher sanctions on Russia. The demands persisted even as the US Congress was already supplying unprecedented amounts of aid and advanced weapons to kyiv.
At that time, the North American leader would have told the Ukrainian president in private that "it would be difficult for him to continue requesting money from Congress if Zelensky was ungrateful and kept saying it wasn't enough," according to the former Biden Administration employee.
Aid to kyiv does not enjoy as much support in the US.
The Washington Post indicates that despite Biden's efforts to keep his global coalition together, "cracks appear in political support" within the US in relation to "the billions of aid" that the North American country is sending to Ukraine.
Thus, a Pew Research poll shows that the percentage of Americans who are extremely worried or very worried about a Ukraine defeat fell from 55% in May to 38% in September. Among Republicans and Republican-leaning independents, 32% think the United States is lending too much support to the conflictcompared to 9% in March, picks up the middle.
Source: RT