The US president starred in a disconcerting moment while speaking this Wednesday at a university in Northern Ireland.
The president of the USA, Joe Biden, was giving a speech this Wednesday at the University of Ulster, in Belfast (Northern Ireland, United Kingdom), when, suddenly, he stopped to urge part of the public located in an area superior to "do not jump", as seen in a video shared by The Guardian.
When he was talking about the Northern Ireland conflict (1968-98)recalled that the negotiations had "700 days of failure and one day of success", but they went ahead because the parties involved did not stop believing that they would come to fruition.
"I want all of you to [lo] know, especially the young people in today's audience. And don't jump, okay?" He said after turn around to address part of the audience that was attending his speech from an elevated area of ​​the venue. "Oh, do you see all the distance there? As my father would say 'please forgive me for turning my back', I apologize," he added.
BIDEN: "And I want all of you to know, especially the young people in the audience today — and don't jump, okay? Oh! I didn't see all the way up there." pic.twitter.com/ZeYfakOWIV

— RNC Research (@RNCResearch) April 12, 2023
It is not the first time that the president of the North American country resorts to this disconcerting joke in public. In May 2022, while among a group of wheelchair athletes, he asked people not to jump, while five months later he did the same by speaking to a group of cancer survivors.
Good Friday Agreement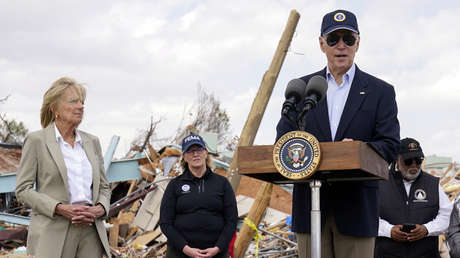 Biden is visiting Belfast for the 25th anniversary of the Good Friday Agreement, signed by the British and Irish governments, and accepted by most regional political parties, to end hostilities.
"The peace dividend are around us", he asserted during his speech. "This very campus is located at an intersection where conflict and bloodshed once predominated in a terrible way," he added.
In this sense, he recalled that, for 1998, it was the longest-running conflict in Europe since the end of the Second World War, in which thousands of families were affected by the disturbances and had to mourn losses.


Source: RT