The decision was made due to the concern of local authorities about the capacity of the selected plant to effectively treat the waste and its possible environmental impact.
US waste management company Clean Harbors on Tuesday abandoned its plan to treat water contaminated by a train derailment in East Palestine, Ohio, in the city of Baltimore, local media reported.
The decision was made in response to concerns by Baltimore authorities about the ability of the selected facility to effectively treat toxic wastewater and its potential environmental impact on the city.
"While we are confident that our Baltimore facility is safe to handle and process that waste, as we have made clear from the beginning of this process, we will only move forward with the approval of all regulators federal, state and local," said Jim Buckley, a company spokesman.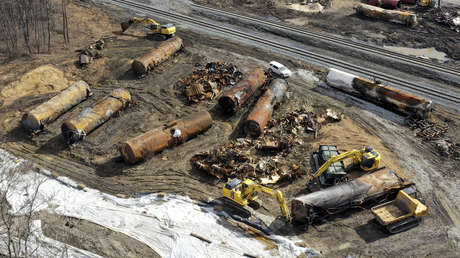 "Due to the measures taken by the mayor [Brandon] Scott to deny our request to discharge pre-treated wastewater from East Palestine into the Baltimore City system, we will not process any wastewater from the EPA-regulated Ohio site cleanup at our Baltimore facility [Agencia de Proteccion Ambiental]"he added, quoted by CBS.
Last week, local authorities learned that the Norfolk Southern Railroad, operator of the wrecked train, had hired Clean Harbors to transport a huge amount of contaminated water from the site of the derailment to Baltimore, where it would be dumped into the antiquated system. of the city's sewer system and then to the troubled Back River Wastewater Treatment Plant.
However, Baltimore Mayor Brandon Scott decided to deny the company the ability to discharge the pre-treated wastewater into the city's sewer system.
"I extend my deepest condolences to the community of East Palestine, Ohio for the effects of this devastating derailment on their community, but I must remain steadfast in my commitment to protect our residents, whatever the cost," the official said in a statement.
Also, last year, state authorities warned that the Back River plant was on the brink of a "catastrophic failure", and less than a month ago, one of the buildings in the facility suffered a huge explosion.
To date, it remains unclear where the 675,000 gallons (more than 2.5 million liters) of wastewater that was scheduled to go to Baltimore will be taken.
On February 3, a train carrying chemical substances derailed in East Palestine, causing a big fire which forced the evacuation of the surrounding population. After the event, the inhabitants of the town reported unusual health problems.
After the accident, specialists began releasing toxic substances into the air from overturned tank cars. During the controlled combustion, hydrogen chloride and phosgene, a toxic gas used as a weapon in World War I, among others, were released into the air.


Source: RT