Several countries then broke their ties with Qatar, accusing it of supporting terrorism.
Bahrain restored diplomatic relations with Qatar, which it had broken off in June 2017 after accusing the neighboring country of interfering in the internal affairs of the kingdom, as well as supporting terrorist activities and financing groups linked to Iran.
Diplomatic ties between the two countries of the Persian Gulf are now restored in accordance with the principles of the United Nations Charter and the provisions of the 1961 Vienna Convention on Diplomatic Relations, the Bahraini Foreign Ministry detailed Wednesday.
To that end, delegations from Bahrain and Qatar met on Wednesday in Riyadh, Saudi Arabia. Both nations expressed their willingness to develop bilateral relations and promote integration within the Cooperation Council for the Arab States of the Gulf, respecting the principles of equality between States, sovereignty and national independence, territorial integrity and good neighborliness, the statement added.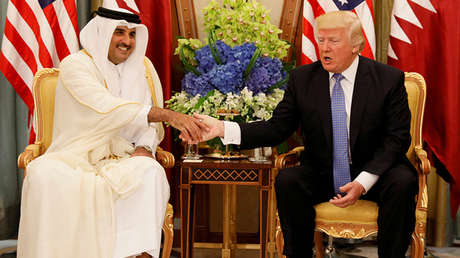 In 2017, Bahrain was the first country to break diplomatic relations with Qatar. A few minutes after the official announcement, it was followed by Saudi Arabia, Egypt and the United Arab Emirates, which made the same decision, considering that Doha destabilized security in the region, promoted the ideology of the Islamic State and Al Qaeda and financed terrorist organizations and extremists linked to the Muslim Brotherhood.
Yemen, Libya and the Maldives also announced the severing of their ties with Qatar.
The root of the diplomatic crisis
Unlike most countries in the Persian Gulf, Qatar had good relations with Iran. Tensions around Doha's position towards the Persian nation increased at the end of May 2017, after a 'hacking' and fake news scandal: the Qatar News Agency, supposedly 'hacked', published some controversial phrases attributed to to the emir of his country, Tamim bin Hamad Al Thani.
Citing the agency, Arab media reported that Al Thani had stated that Iran is an "Islamic power" and that his country's relations with Israel were "good", calling Hamas and Hezbollah "resistance movements". .
In addition, it was reported that Qatar had allegedly withdrawn its ambassadors in Bahrain, Egypt, Kuwait, Saudi Arabia and the United Arab Emirates, due to "tension" with the Administration of then US President Donald Trump.
While Doha vehemently denied the validity of those claims, stating that the agency was 'hacked', the UAE media, Al Arabiya and Sky News Arabia, among others, picked up the stories, giving them extensive coverage.
Source: RT