The attack caused no casualties or substantial damage. If the drones have all been neutralized, this new incursion testifies to the increasingly strong will to strike Russia on its own territory.
The exact chronology of events is still unclear. This Tuesday morning, at dawn, the city of Moscow was, according to the Russian version, hit by a drone attack attributed to the Kiev regime, without it being claimed. Several gray areas, including the exact number of drones launched as well as a potential claim, remain.
• Did the attack do any damage?
It was the mayor of Moscow, Sergei Sobyanin, who first reported this attack in the Moscow sky. He announced that two people were slightly injured and that "minor damage to several buildings" are to be counted.
"All the city's emergency services are on site (…) No one has been seriously injured so far," he said on his Telegram channel.
Images posted on social networks showed traces of smoke in the sky. On others, you can see a window of a broken building. Witnesses quoted by Russian news agencies claimed that a drone "entered an apartment" located on the 14th floor of a residential building, without exploding.
At a midday press conference, Kremlin spokesman Dmitry Peskov assured that Moscow residents need not fear for their safety. "There are no deaths, and for the moment there is no threat to the inhabitants of Moscow and (its) region," he reassured.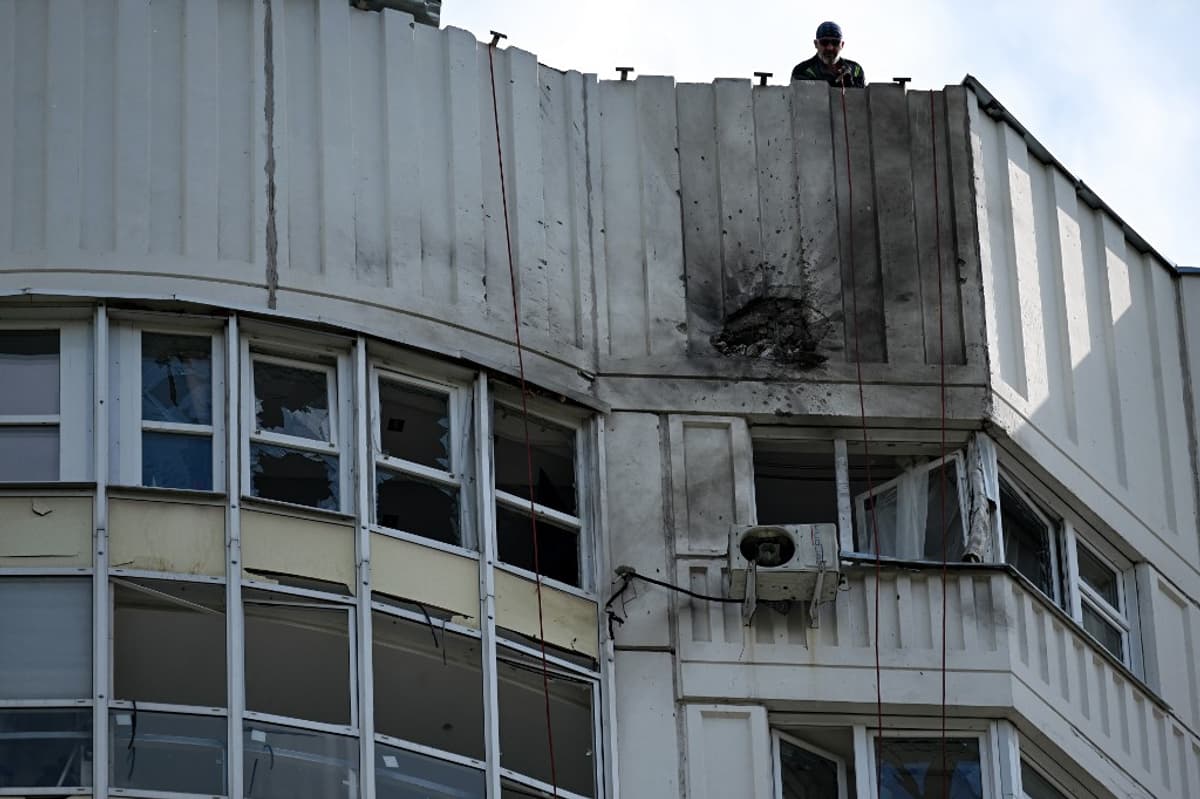 • Who is behind the attack?
In the morning, the Russian Defense Ministry accused Ukraine of being behind the drone fire, and accused kyiv of a "terrorist attack" on its soil. "This morning, the kyiv regime carried out a terrorist attack with drones against sites in Moscow," it read.
For the Kremlin, this attack is kyiv's "response" to recent Russian strikes in Ukraine. "It is quite clear that we are talking about a response from the Kiev regime to our very effective strikes against one of its command centers," Dmitry Peskov insisted.
During a television program broadcast in the morning on Ukrainian television, Mykhailo Podolyak, adviser to President Volodymyr Zelensky denied kyiv's involvement.
"We have nothing to do with it," he said, in remarks translated by the BBC. However, he also assured that kyiv "watches with pleasure and foresees an increasing number of attacks."
The vagueness reigns as for the number of apparatuses launched on the Russian capital, and contradictory figures are given. Officially, the Russian Defense Ministry said in a statement that eight drones were fired at the Russian capital, then neutralized by air defenses.
According to the Telegram Baza channel, which has good sources within the security services, around 25 drones were fired, underlines Reuters.
The Russian channel RBK, for its part, quoted an anonymous source at the Ministry of Defense, according to which more than 10 drones were shot down.
• Is this a first?
Moscow and its region, located more than 500 km from the Ukrainian border, have so far been very rarely targeted by drone attacks since the start of the conflict, even if this type of attack has multiplied elsewhere in Russia.
In early May, two drones were shot down over the Kremlin, the seat of Russian power, in an attack blamed on Ukraine. There again, the Ukrainian authorities, and Volodymyr Zelensky in person, had denied being at the origin.
In recent weeks, drones have also targeted military bases or energy infrastructure in Russia.
In parallel with these operations, we must also add the actions of an anti-Putin group, which declared to be at the origin of an operation described as "terrorist" by Moscow on Russian territory, which notably led to the evacuation of civilians.
Source: BFM TV