"As Secretary of Defense, I will also not hesitate to take the additional steps necessary to safeguard our nation's secrets," Pentagon chief Lloyd Austin said.
Pentagon chief Lloyd Austin has ordered the US Department of Defense to review its protocols for access to confidential materials to prevent future leaks of classified information, such as the one reported last week, when more than 100 documents marked as secret appeared on the Internet. The alleged author of the leaks, a specialist in cyber transportation systems from the country's Air National Guard, James Teixeira, was arrested on the same day.
"As Secretary of Defense, I will also not hesitate to take additional steps necessary to safeguard our nation's secrets. Accordingly, I am directing the Assistant Secretary of Defense for Intelligence and Security to conduct a review of our intelligence access, accountability and control procedures within the Department," Austin said in a statement.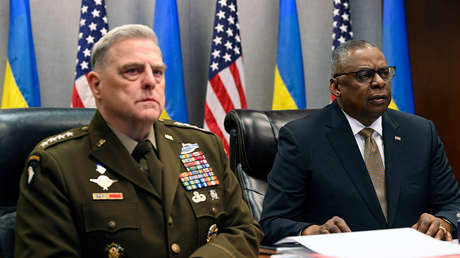 Likewise, the senior official stressed that all members of the US Armed Forces, Defense Department civilians and contractors with access to classified information have "the legal and moral obligation" to protect it and report any suspicious activity or behavior that could pose a risk to the security of these materials.
Meanwhile, CNN correspondent Josh Campbell took aim at the "extreme vulnerability" of the Pentagon in comparison with other US agencies that handle sensitive materials, such as the CIA or the FBI, since these have increased their precautions after certain cases of "betrayal" by their agents.
Campbell stressed that the two institutions have strengthened their programs against insider threats, closely scrutinizing the finances and travel of staff with access to sensitive information and expanding the use of polygraphs to systematically assess loyalty and suitability of its members.
Although the level of authorization that Teixeira had in the entity is still unknown, the journalist highlighted the importance of frequently examining Defense Department employees with access to classified information. Now, the institution will almost certainly be the subject of supervisory investigations, Campbell said.
The leaked documents
The materials that have come to light were allegedly produced by the Pentagon, as well as by various US special agencies. Their content focuses on issues such as approximate losses of Ukraine and Russia since the outbreak of the conflict, the weapons and equipment that Kiev would need in the future, the schedule of deliveries by Washington and NATO, the number of troops and war material on different fronts, the capabilities of the Ukrainian anti-aircraft defense, as well as as the development of the conflict in general.
Among other issues referred to in the documents, is Washington's spying on South Korea and Israelthe means by which the Israeli authorities choose to send military aid to kyiv and the possible scenarios of the political conduct of China.
Source: RT