The 'blackout challenge' prompts users to film themselves holding their breath or suffocating to unconsciousness.
A 12-year-old Argentine girl died last Friday after trying to complete the 'blackout challenge' ('blockout challenge', in English), a viral TikTok challenge that encourages you to hold your breath or suffocate until you lose consciousness.
Milagros Soto was found lifeless in her room in the town of Capitan Bermudez, Santa Fe province. According to what her family denounced, the minor had been challenged by her friends to record herself while she fulfilled the dangerous challenge, which also invites her to tell the sensations once overcome.
Laura Luque, Milagros's aunt, announced the sad news through a publication on her social networks. "Hello everyone. My name is Lali. I make public what I am experiencing. This is Milagros (referring to a photo that accompanies the text), my little niece, who today (Friday) lost her life doing a TikTok challenge. Please I ask you to share. My family and I have no consolation" wrote the woman.
According to the local newspaper La Nacion, the Capitan Bermudez Police, an ambulance and members of the Criminal Investigation Agency (AIC) went to the minor's home after her death.
A person in charge of the investigation explained that the victim would have placed an object around his neck to avoid breathing. "Once the breath is blocked, the goal is, due to lack of air, to pass out. All this is broadcast live on the networks and whoever achieves it advances in the game. In this case it did not work and the minor died in the attempt", he explained.
At the moment, the case is being investigated for alleged suicide. Justice also seized the victim's cell phone found in her bedroom.
Meanwhile, from the Public Prosecutor's Office of the City of Buenos Aires, they warned about the danger of this type of viral challenges and recommended that adults "talk to girls, boys and adolescents to warn, accompany and learn about their digital activity".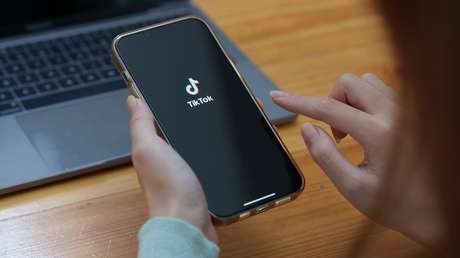 Another case is being investigated in Argentina
This same day, in General Roca, Rio Negro province, the death of a 17-year-old adolescent who would have participated in the 'blockout challenge' is being investigated, while another young man of the same age was hospitalized in serious condition. Both were alone in a home and would have "played to hang himself"as reported by the local newspaper RN.
Background in the US and Europe
Several minors have died in the US trying to meet the 'blackout challenge'. In fact, the TikTok social network is facing two wrongful death lawsuits in that country, after two girls —Lalani Erika Walton, 8, and Arriani Jaileen Arroyo, 9— lost their lives in July and February of 2021, respectively.
There were other cases, such as that of Joshua Haileyesus, a 12-year-old teenager who died in April of the same year after spending more than two weeks in a coma. In July, another American boy of the same age lost his life allegedly taking part in the controversial challenge, and in December a 10-year-old girl died in the same way.
In addition, in Italy the case of a 10-year-old girl whose death was also caused by suffocation, induced by the 'blackout challenge', became known in January 2021.
Source: RT