If the restrictions go into effect, patients will need to receive a prescription from a doctor and attend three in-person follow-up appointments to be able to take mifepristone.
A US federal appeals court on Wednesday imposed restrictions on access to the mifepristonea drug widely used as an abortion method and that will continue to be available for now, local media reports.
The panel of three conservative-leaning United States Court of Appeals for the 5th Circuit ruled that the Food and Drug Administration (FDA) failed to adequately consider security concerns when he eased regulations on mifepristone in 2016.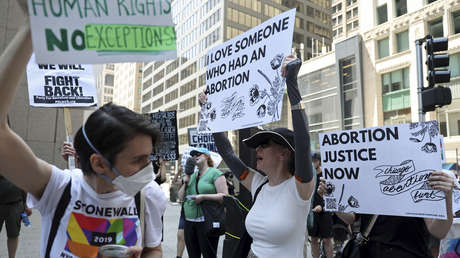 However, this ruling will not have an immediate impact on the availability of this abortion pill, as the Department of Justice is expected to appeal the decision. Earlier this year, the Supreme Court stayed the case, allowing mifepristone to remain widely available during the appeals process.
The case originated in Texas, where a judge ruled in favor of doctors who opposed the FDA's approval of mifepristone in 2000 and subsequent regulatory changes that made it more accessible. In particular, they not only allowed the sale of the generic form of the drug, but also removed the requirement that the pill be only distributed in clinics, doctor's offices and hospitals, making it prescribed by telemedicine and by mail order.
If the higher court rejects the appeal, the restrictions will go into effect and the patients they will need to get a prescription from a doctor and go to three appointments follow-up in person, collects CNBC. The restrictions would also shorten the period in which women can take the pill to up to 49 days pregnantcompared to the 70 days currently in force.
"By relaxing the safety restrictions on mifepristone, the FDA failed to address several important issues about the drug's safety for women who use it," Judge Jennifer Walker Elrod said. "He didn't take into account the cumulative effect to remove several important safeguards at the same time," he said.
Mifepristone, used in combination with another drug called misoprostol, is the most common method of terminating a pregnancy in the United States.
The new restrictions come a year after the Supreme Court struck down a rule protecting the right to terminate a pregnancy at the federal level. Thus, he revoked the ruling of the case Roe vs. Wade allowing, for the first time in nearly 50 years, states to make a decision on the issue. More than a dozen conservative states have adopted a series of laws to ban abortion and others have limited access to the procedure. In Democratic states, by contrast, measures were promoted to protect access to abortion.
Source: RT