The vehicle with a trailer was carrying dirt from East Palestine, Ohio, the place where a train carrying chemical substances derailed two months ago.
A truck carrying 18,143 kilos of toxic soil from East Palestine (Ohio, USA), the place where a train carrying chemical substances derailed two months ago, suffered an accident on Monday, according to a statement published by the Agency for Ohio Emergency Management.

The vehicle with a trailer skidded off State Highway 165 and flipped onto its right side, the text explains. The Ohio State Highway Patrol estimates that approximately half the load spilled over the road and the berm.
Both the Ohio Environmental Protection Agency and the local fire department were on the scene. Authorities say the spill was contained and does not pose a threat to nearby waterways.
The aforementioned patrol has summoned the driver of the truck, who suffered minor injuries, to testify for operating a vehicle without reasonable control, local media reports. At the same time, an investigation has been opened to clarify the facts.
Lawsuit Against Norfolk Southern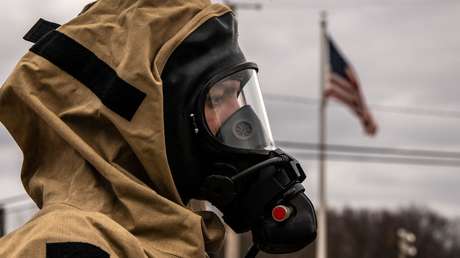 On February 3, a train carrying chemicals derailed in East Palestine, causing a huge fire that forced the evacuation of thousands of residents. After the event, the inhabitants of the town reported unusual health problems.
After the accident, specialists began releasing toxic substances into the air from tank wagons that had been overturned. During the controlled combustion hydrogen chloride and phosgene, a toxic gas used as a weapon in World War I, among others, were released into the air.
The US Department of Justice recently sued the Norfolk Southern railroad over the derailment. Since then, multiple trains have suffered the same fate across the country, raising questions about American rail safety.
Source: RT