It is not the first time that the exhibition of the photographer and member of the Ukrainian nationalist Azov battalion Dmitri Kozatski has been closed for his radical position.
The University of Alicante, in Spain, has canceled an exhibition by the Ukrainian soldier and photographer Dmitri Kozatski, after the controversy created around the artist for being a sympathizer of neo-Nazi ideology, reports the newspaper Informacion.
The measure was taken after in recent days different groups requested through social networks the cancellation of the sample, something that the Polytechnic University of Catalonia had already done last November for similar reasons.
"We are strongly opposed to the fact that the exhibition of photographs of a neo-Nazi like Kozatski, belonging to the Azov battalion, is allowed in our Faculty of Philosophy and Letters. Fascists outside our University", demanded the student union Estudiantes en Moviment Alacant.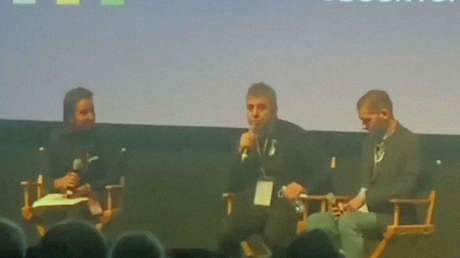 Kozatski went viral on social networks for being a symbol of the fighters of the nationalist formation who were entrenched in the Azovstal steel plant, after share on his Twitter account his interpretation of 'Stefania', the winning song of Eurovision 2022 by the Ukrainian group Kalush Orchestra.
However, users of social networks shed light on other publications by Kozatski – who surrendered with other members of the Azov battalion – in which he wears a shirt with the number 1488, used by supporters of Nazism and white nationalism, and boasts of a pizza with a swastika painted on it with ketchup.


Source: RT