Colombian senator Ivan Cepeda mentioned that the "crematory ovens would have been used to make protesters of the national strike disappear."
The complaint about alleged irregularities in the district cemeteries of Bogota led to the resignation of Luz Amanda Camacho, director of the Special Administrative Unit for Public Services (UAESP), which is the body in charge of managing funeral, cleaning and public lighting services. .
Camacho's resignation was announced after the members of the Bogota Council, the highest political-administrative authority, demanded the departure of the director of the UAESP due to the malfunction of the crematoriums, in cases that included the disappearance of bodies and improper handling of ashes.
In this regard, Senator Ivan Cepeda, from the Pacto Historico coalition, mentioned the investigation that takes up the statements of a businessman in the funeral sector who denounced the bribes paid to public officials to obtain contracts, as well as bad practices in matters of cremation and identification of bodies in Bogota.
"They denounce that crematorium ovens in Bogota would have been used to disappear protesters of the national strike", Cepeda wrote this Monday on his Twitter account, along with a news link that resumes the research work carried out by the magazine Cambio.
They denounce that crematorium ovens in Bogota would have been used to disappear protesters of the National Strike https://t.co/QGq7vPn4EY

— Ivan Cepeda Castro (@IvanCepedaCast) January 16, 2023
The report contains an interview with Sergio Venegas, who was commercial director of Jardines Luz y Paz, one of the companies that won a million-dollar tender from UAESP to manage the cemeteries of Bogota, in association with other businessmen.
In an interview with Cambio, Venegas stated that in the framework of the 2021 national strike in Colombia, about 300 people were cremated without being identified. "I can tell you that about 300 people were able to arrive, that they arrived, were cremated and nobody says anything, that is, there is no documentation," he said.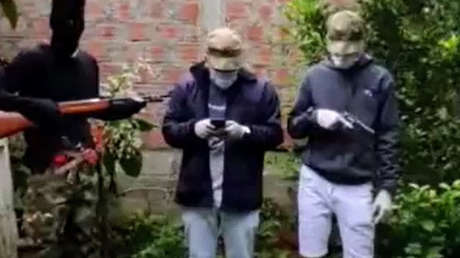 In addition, in the Serafin cemetery, there are some 1,500 graves without identity, he added. Although he did not mention the officer's name, the businessman pointed out that "a police general disappeared citizens and went and left them there".
In the midst of a confrontation between businessmen over the management of the cemeteries, Venegas also assured that, as an example of mismanagement, there are plastic bags full of ash, as if it were garbage.
bribes
The former director of Jardines Luz y Paz also admitted that he spent 1.5 billion pesos (about $319,493) to "pay bribes to the officials who assigned the contract." "The money that was allocated to the director of the UAESP was 1,050 million pesos (223,645 dollars)," she added.
Interviewed by Cambio, Camacho —then director of the UAESP— denied this information. However, the pressure exerted by the Bogota Council had an effect and the official announced her resignation this Sunday.


Source: RT