The US President traveled to Northern Ireland to celebrate the 25th anniversary of the Good Friday Agreement, which ended 30 years of violence.
The Northern Ireland Police Service is investigating a "security breach"after a passerby found on a Belfast street a classified police document on the security operation deployed in connection with Joe Biden's visit to the country.
The person who found the security plan delivered the papers to the BBC radio show The Nolan Show, whose presenter, Stephen Nolan, shared the news on his Twitter account on Wednesday.
The US president arrived at Belfast International Airport around 9:00 p.m. (local time) on Tuesday and was greeted by British Prime Minister Rishi Sunak before heading to the city center where he had a tight schedule for the next day. .
The first page of the document detailed the agents' actions for Monday, April 10, one day before Biden's arrival. marked as "sensitive"the security plan contained the agent names involved in the operation and their respective surveillance tasks in different streets of the city, as well as instructions to be in contact with the US Secret Service.
An Irish Police spokesperson confirmed to BelfastLive that they are aware of the security breach and that an investigation is already underway. "We take the safety of visiting dignitaries, members of the public, and our agents and staff very seriously, and will put appropriate measures in place," he said.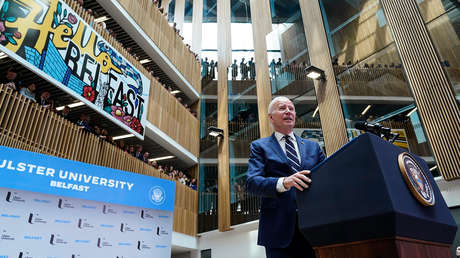 Biden traveled to Northern Ireland to celebrate the 25th anniversary of the 1998 Good Friday Agreement between the British and Irish governments, which ended 30 years of violence between unionists and nationalists. "The enemies of peace will not win," declared the US president.
After spending the day in Belfast, Biden went to dublin on a personal visit, in search of their ancestral roots. The politician claims his Irish heritage is a driving force in his life: 10 of his 16 great-great-grandparents came from the island and immigrated to the US during the Great Famine of the mid-19th century.
With information from AP
Source: RT