The Special Jurisdiction for Peace specified that, between 2000 and 2004, the tributary was used as a mass grave for more than 1,000 victims of paramilitary groups.
The Special Jurisdiction for Peace (JEP) of Colombia declared the Cauca river a victim of the internal armed conflict, a decision that, for the first time in the history of the Latin American country, highlights the damage caused to the environment.
In a release, the agency specified that, between 2000 and 2004, the river was used as a mass grave for more than 1,000 victims of paramilitary groups. In addition, the armed organizations systematically contaminated the tributary with chemicals derived from the production of illicit substances and with mercuryused in the illegal minery, picks up the local press. These practices not only affected the life of the local population, but also nature and other species.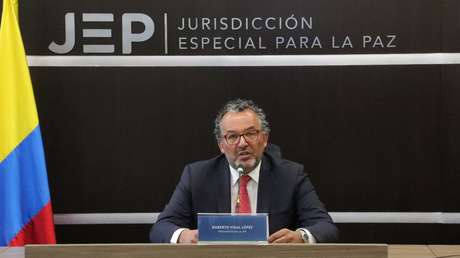 The JEP Recognition Chamber explained that it was "a systematic conduct allowed by the public forces, and carried out by paramilitary groups, which consisted of murder people and throw them into the Cauca River so they could never be found."
The authority maintained that the militiamen used certain bridges that cross the riverbed to dispose of the bodies of their victims, to the point that approaching the banks of the tributary "was considered dangerous, completely breaking the relationship with the community."
According to the Afro-Colombian communities in the affected areas, members of the extinct Calima Bloc of the United Self-Defense Forces of Colombia dumped more than 1,800 bodies in Cauca.
The reports cited by magistrate Raul Sanchez detailed a series of atrocities committed by the armed groups, including the abandonment of bodies out in the open to be destroyed by carrion birds. Another of the atrocities was that the victims they opened their bellies before throwing them into the river to sink and never be found.
During the judicial process, the JEP listened to the testimonies of several leaders of the extinct group, who testified about the alliances of the Calima Bloc with members of the public force to disappear their victims.
"There was coordination with the Police […]that we take the people out of town and throw them into the river to make them disappear and that there be no more demands," a former commander was quoted as saying by local media at the time. Another former paramilitary reported that they frequently resorted to the disappearance of bodies "to not raise the crime rates in the area much.
The judge's ruling on the Cauca River was produced as a result of a lawsuit filed by several Community Councils of the municipality of Buenos Aires, in the department of Cauca, who denounced that both the tributary and the members of their communities were mistreated and victimized. by the paramilitaries.


Source: RT