Spanish actor Rodolfo Sancho later qualified his words, explaining that he had pronounced them as "a mechanism" to stay "strong."
The Spanish actor Rodolfo Sancho spoke on Wednesday for the first time since his son, Daniel Sancho, was arrested by the murder and dismemberment of the Colombian surgeon Edwin Arrieta in Thailand, but his words have raised controversy.
"For that part of the press that believes that I am on the ground crying, that's not me," said the actor after visiting his son in prison for the first time during a long three-hour meeting.
"There are two ways of dealing with things in life: as a misfortune or as a challenge," the artist said before the media gathered near the prison where his son is being held.
Rodolfo Sancho's arrogance shows that he may have been advised legally, but not communicatively. His only statements should have been of pain and condolences to the family of the man who murdered his son. Everything else is SUPPOSED.pic.twitter.com/m8vi8tEbFC

— Javier Sanchez Glez. (@javisanchezglez) September 6, 2023
In addition to the controversial statements, the actor also took the opportunity to express his confidence in the justice of Thailand, thank "the support of all the people" and send a message of condolences to the victim of his son.
"My deepest condolences and condolences to the Arrieta family, who I understand will be in enormous pain," he said.
After the commotion caused by his words, which were harshly criticized on social networks, the actor wanted to qualify them this Friday, after his second visit to prison: "Maybe the image I gave was very harsh, maybe arrogant"he acknowledged.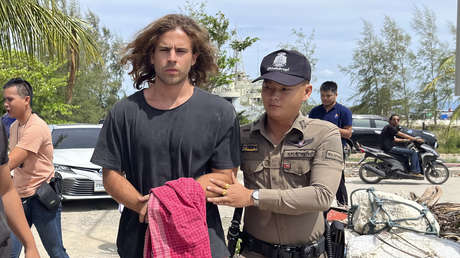 However, he alleged that the harshness of his expressions was due to the complex moment he had just gone through in the prison. "You know that in reality I have always had a smile for the press," he added.
Along these lines, he asserted that Wednesday's words had been the product of "a mechanism" used to feel "firm" and "strong" and to "help" his son.
Daniel Sancho, imprisoned in Thailand, murdered and dismembered Arrieta on August 2. Three days later, the Spanish confessed to the crime when the body parts of his victim were found in different places.
Since August 7, Sancho remains in provisional prison. From then on, the Thai Police have a period of 84 days to conclude the investigation.
Subsequently, the young man will attend a trial in which he could face the request for death penalty. The intention of Sancho's defense is to ensure that the judicial decision takes into account his extradition to Spain after serving four years in prison in Thailand, a possibility covered by an agreement between the two countries.


Source: RT