An audio emerged in which Lilia Lemoine, aspiring national representative for La Libertad Avanza, explains to a person how to set up an operation.
In the midst of the electoral campaign in Argentina, the press released an audio this Tuesday that reveals that some political sectors are willing to do anything to win in the October 22 elections. Even unusual strategies.
In this case, Lilia Lemoine, candidate for deputy in the Province of Buenos Aires for La Libertad Avanza (LLA), tried to involve the vice president of Argentina, Cristina Fernandez de Kirchner, in a fake sex chat with Javier Milei, leader of LLA and the presidential candidate with the most votes in the August primaries.
In the conversation, Lemoine, in charge of LLA communication, addresses a person named Ramiro, to whom she gives instructions on how to set up the operation. For example, she tells him that he should ask a friend to post a photo of Cristina Fernandez on his WhatsApp profile, while he should do the same but with Milei's image. In addition, he asks her to send him erotic photos and talk to him "like Cristina would talk."
Her name is Lilia Lemoine, she is a candidate for National Deputy for La Libertad Avanza, one of the people closest to Milei. Last night on LN+ they leaked an audio where she proposes to a certain "Ramiro" (the candidate for Head of Government?) to put together a fake sex chat between Milei and CFK, to operate… pic.twitter.com/kWUaZMSAcn

— Editor✍ (@Editor_76) August 30, 2023
"Let the doubt remain and let people be more in doubt as to whether it is truly Cristina Kirchner or a 'fake' account," says the liberal 'influencer' in the audio revealed by LN+.
"To make it more realistic, don't put a photo of Cristina. In other words, put Cristina and put a photo of cleavage or something, but don't let it be Cristina's face, since on her official account she sends her porn photos (sic)" , he adds.
He even proposes to Ramiro to involve a third person in the talk, among whom he mentions the former Kirchnerist Minister of Economy, Amado Boudou, and the Argentine actress Moria Casan.
The "post-truth"
Lemoine was consulted by the newspaper Perfil and confirmed the veracity of the chat, although she said that the conversation was "decontextualized." However, the explanation she gave about the context was even stranger.
According to the candidate, Ramiro is a journalist from the province of Cordoba. In the conversation, she is "explaining how post-truth is put together."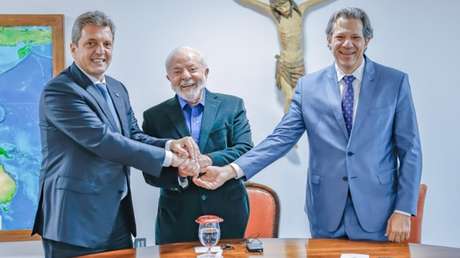 "It wasn't 'do this', because in fact it wasn't done. We didn't do any of that. It was so that, if he felt like leaking it through Voxed (a social network that ceased to exist in 2020), see how far it would go because "They have used Voxed as a source of information (…) and they spread them as if they were true."
According to the candidate, "that is how the information route was measured to show how ridiculous news reports areif you can call them that."
Lemoine assures that the journalist named Ramiro wants to dedicate himself to investigation and works for LLA, but for some time now, for some unknown reason, he began to "attack" the party.
According to the libertarian candidate's own explanation, she herself He paid Ramiro the sum of 10,000 pesos (about $28.50) to carry out the "investigation" based on the dissemination of false information.
"Then I told him that I couldn't pay him, that I didn't have any, and he told me that it didn't matter, that he would do it anyway," he said. And he added: "It seemed to me that it was a practice for investigative journalism that was good and in the process we did a service to the community."


Source: RT