The occupants of the vehicle that collided with the pachyderm suffered minor injuries. The governor of Antioquia has asked Gustavo Petro for help to expedite the shipment of these animals to Mexico and India.
A hippopotamus died in Colombia on Tuesday night after being hit by an SUV on a road on the outskirts of the municipality of Puerto Triunfo, in the department of Antioquia, local press reports.
The accident occurred near the Hacienda Napoles Theme Park, which operates on the former property of the late drug trafficker Pablo Escobar. Preliminary reports indicate that the mishap occurred in a unlit curvewhere the hippopotamus crossed the road without the driver of the car being able to avoid it.
This painful accident reaffirms the importance of urgently carrying out the translocation of hippos from Doradal to India and Mexico.President @petrogustavoMinister @susanamuhamadplease help us with the permits for the transfer of these majestic animals 🙏🏻 pic.twitter.com/VBCf0vP4oi

— Anibal Gaviria Correa (@anibalgaviria) April 12, 2023
The two occupants of the car suffered minor injuries and received medical attention at the scene, while the vehicle was damaged beyond repair. The hippopotamus was not part of the pachyderms registered in the Hacienda Napoles Theme Park, but rather one of the approximately 160 mammals that roam uncontrollably for the region.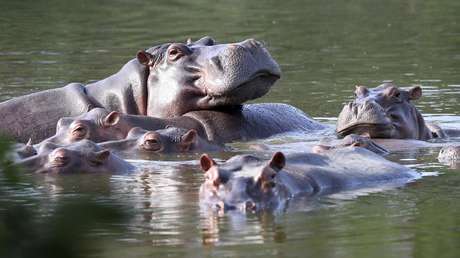 Other traffic accidents
Although it is not the first time that these animals have been involved in traffic accidents on the roads of Puerto Triunfo, in which no one lost their lives, it is the first hippopotamus to die in this type of mishap.
In March 2022, the Colombian Ministry of the Environment declared hippos a invasive alien species due to the negative impact on the local ecosystem and native species. In addition, these animals represent a serious threat to people. After this week's accident, the governor of Antioquia, Anibal Gaviria, asked the government of President Gustavo Petro for help to expedite the transfer of 70 of these mammals to natural sanctuaries in Mexico and India.


Source: RT