It happened over the weekend in Palolo, an area located in Honolulu County (Hawaii, USA).
A gigantic stone went through the wall of a house in Palolo, an area located in Honolulu County, in Hawaii (USA) last weekend, and was about to take Caroline Sasaki, a woman from 65 years old, as can be seen in a video broadcast by local media.

In the recording – which was captured by a security camera – it is observed how the woman moves calmly through the living room when, suddenly, a large stone bursts walls and breaks into the interior of the house, generating a strong noise. The lady moves away from her, scared, and two people arrive asking what has happened.
open investigation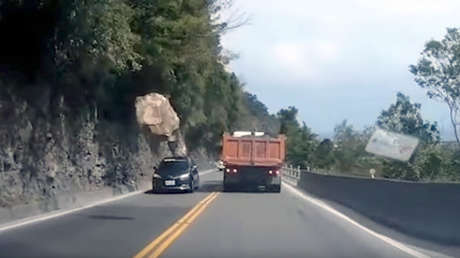 "All I heard was the bang as the sliding door glass broke, so I backed away. I guess it all happened right in front of me," said the woman, who suspects the rock came from excavation work near her. house, on a hill, for which he has urged the local authorities to stop the work.
Calvin Say, a local ward councillor, said he was thankful nonetheless that no one was physically injured and blamed the incident on strong rains occurred over the weekend. He also explained that the Department of Planning and Permits has already opened an investigation in this regard.
For the moment, the agency determined this Tuesday that a barrier installed on the hill to contain the fall of rocks did not meet the specifications required in the approved construction permit, for which reason it will issue an order to interrupt the work there and an infraction notice. to the owner and the contractor in question.
Source: RT