Hypotheses about the origin of the message range from an advertising strategy to a conspiracy theory.
Over the weekend, a small plane carrying a sign with the message: "Benedict XVI has never abdicated"without being able to determine its origin.
July 15, 2023: Aereo servola il litorale di Ostia: «Benedetto XVI has not abdicated». Gli intrighi del Vaticano sono semper ricchi di misteri. pic.twitter.com/9e95OlgYYf

— Luigi Rispoli (@LuiRispoli) July 17, 2023
The tourist plane carrying the banner was seen and photographed on Sunday afternoon passing several times over the seafront, between the roundabout at the end of Via Cristoforo Colombo and the pier. He was also seen in other towns further south, as far as Anzio and then even as far as the Circeo area, according to local media.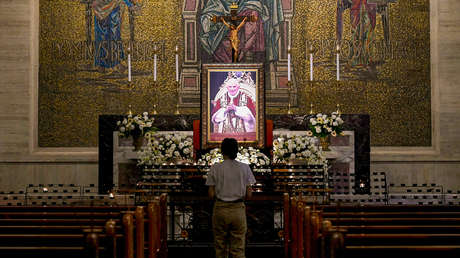 Several people wrote about the disturbing billboard on social media. The hypotheses of the origin of the message suggest that it would be a publicitary estrategy to promote some kind of initiative, book or documentary about the ex-pontiff, or about a conspiracy theory circulating on the internet since Joseph Ratzinger's resignation from the papacy in 2013, questioning his legitimacy and will.
For his part, Andrea Cionci, author of the book "Codex Ratzinger", which deals with the supposed annulment of Ratzinger's resignation as Benedict XVI, clarified that it had nothing to do with the plane or the cartel.
"I can certify that it is not an advertising initiative, neither for me nor for others," Cionci told the Italian daily Il Messaggero.


Source: RT