The woman declared that she could not live with a man who did not respect her personal limits and who ruined the happiest day of her life.
A 27-year-old woman divorced her husband 24 hours after their wedding because he smeared cake on her face during the ceremony, ruining the happiest day of her life. The woman who did not specify where the story occurred, she revealed on the Reddit social network that, before the wedding, she asked her ex-husband not to repeat the popular joke and not to stain her face with the cake. She explained that she had a bad experience related to this prank. When the girl turned 17, her mother also decided to play a prank on her and, when she blew out the candles on her birthday cake, her mother buried her head in the cake, but one of the decorations caused a cut on her forehead, causing her a profuse hemorrhage.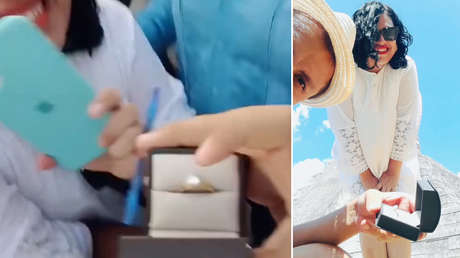 "I told him that if he ever did something like that to me I would leave him. He started to laugh, but I was serious, even though He really wasn't taking me seriously.", he said. Despite his girlfriend's request, the boyfriend decided to smear the $500 cake on her face, ruining her makeup, hair and dirtying her dress.
"Everything seemed to go in slow motion for a few moments," the woman recalled. "Then I start walking away, he notices I'm leaving and tries to catch up with me and says I'm overreacting. I push him away and ask for an Uber. When I leave, most people keep telling me to come back. I get in the Uber and I go". The bride returned home, packed her bags and spent the night in a hotel.
The woman tried to talk to her husband the morning after the wedding, but the man refused to apologize, saying he simply didn't understand her joke. Then the girlfriend decided to divorce him because she couldn't live with a man who he did not respect his personal limits and could not admit his guilt for actions that caused discomfort to the person he loved. "It was supposed to be the happiest day of our lives and he embarrassed me in front of everyone for a joke he knew I hated," she said.
Source: RT