It is easy to get your contact on a second-hand buying and selling page. He says his name is Wilson, he has no profile picture and his status is a generic: "Hi, I'm using WhatsApp." She replies to the message right away: "Thank you for contacting us regarding our medicine. A box costs 160 euros". The box she talks about contains a single dose of Ozempic, the type 2 diabetes medication that has been shown to dramatically help you lose weight. In Spain it can be purchased at the pharmacy with a prescription, financed for diabetics (four doses for 4.24 euros) and unfinanced for patients with obesity and related health problems (who pay 130 for the same amount).
Wilson's asking price is completely out of the market, but he offers other advantages, as he launches into explaining at a frantic pace: "No, you don't need any prescription, safety and customer satisfaction is our priority." "We take care of the delivery to your door." "We accept payment through Bizum". "After this first transaction, you will be delighted to do business with us again. This is a promise". A Google search for his phone number gives access to a bizarre back office, scattered in different ads on second-hand websites. He has rohypnol (a popular drug for its use in sexual assaults by chemical submission), trankimazin, elvanse He has everything and for everyone, but for a few months now, what he has promoted the most is Ozempic.
They call it the "Hollywood drug" and it is the best known of a class of drugs, the GLP-1 receptor agonists, that could end obesity in the world. Ozempic is a weekly injectable drug that has shown weight loss of about 15% in clinical trials. Although it has been approved in Spain and has been prescribed since 2017, its fame seems to have exploded in recent months, which has caused shortages and an obsession with obtaining these precious injections.
The medicine jumped from recipe books to social networks after it was rumored that Kim Kardashian had used it to put on the Marilyn Monroe dress at the 2022 MET Gala. Then the fever broke out. The same magazines that criticized the bodies of the famous began to speculate about who (and how) she had lost weight suspiciously fast. Social networks viralized an obsession that has already crossed the pond. The Ozempic hashtag launches videos on TikTok with more than 674 million views. "It is true that in the gym they talk about it," confirms Teresa (fictitious name), a personal trainer at an exclusive sports center in Madrid. "There is a client who uses it and I know of a trainer in the center who accompanies her routines with punctures", she explains. But she points out that this is a background rumor, imported from the US, and that is not openly discussed. But it's a deafening rumor. Since the days of Botox and Viagra, no drug has aroused such interest.
Diabetes is an epidemic. According to data from the International Diabetes Federation, it affects one in seven adults in Spain. Related health spending exceeds 13,430 million euros. Obesity, for its part, affects millions of people and is the gateway to more than 200 diseases and cardiovascular problems. Complications caused by weighing more than they should account for 9.7% of total health spending in Spain, according to the OECD. The use of GLP-1 receptor agonists could mark a turning point in the battle against excess fat that we have been waging (and losing) for decades. But the promise of losing weight effortlessly, with one shot a week, is not only of interest to people with health problems.
Maria (not her real name) is overweight, but not enough to be prescribed Ozempic, which she obtained through methods she prefers not to disclose. "The first day was horrible, I pricked myself too much and I got sick, nauseated and fatal," she explains in an audio exchange. But then things got better. She had been on diets before, she had lost weight based on willpower. Salads, sweat and tears. But this time it was different: "I lost the desire to eat, and above all to eat dirty food," she explains. "I order food on Glovo, and normally, if I'm on a diet, I gossip through the app and think: 'I ask or I don't ask, maybe I shouldn't' And in the end I do. When I was shooting myself, I didn't even look at Glovo, because I thought of a hamburger and it disgusted me. Maria did not accompany the injections with a change in her routines. Her body asked her for "less and healthier food", but she did not follow a diet or play sports. Even so, she lost five kilos. Two months later, she stopped pricking herself and got them back.
"If we use these medications without changing our lifestyle, we do absolutely nothing," explains Juan Jose Gorgojo, head of the Nutrition Service of the Fundacion Alcorcon University Hospital, by phone. Weevil is extremely critical of people who use these drugs for cosmetic purposes. "The cult of the body causes perspective to be lost. These life-saving drugs. It seems to me an aberration to use them in such a frivolous way ", he sentences.
The case of Maria contrasts with that of Javier Diaz, 45 years old. When Ozempic began to prick himself, he weighed 112 kilos, he had shot up transaminases and the beginning of type 2 diabetes. He accompanied the treatment with a diet and a gym routine. "What has happened to me is wonderful, that's clear," he says on the phone. "Before, I could barely walk down the stairs in my house, and this morning I did 100 squats."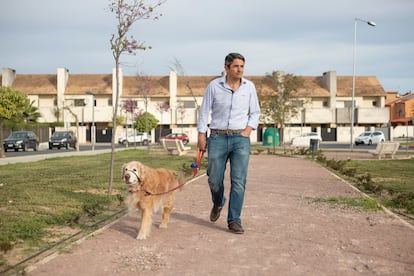 Diaz has been dieting since he was 16 years old. Dissociative, pronokal Nothing worked for her, or at least not permanently. Last May she put herself in the hands of an endocrinologist and at the moment she has a more than positive balance. And expensive. Diaz is aware that not everyone can afford her treatment. In the year that she has been using Ozempic she has lost 26 kilos and has spent more than 1,500 euros. The fight of many endocrinologists is that the State finances cases like yours.
This is the case of Dr. Gorgojo. "It seems that we reward the patient for becoming diabetic and that is when we finance the drug for him," he laments. "If he has obesity problems, we don't finance it. But if, over the years and due to this obesity, the patient develops, let's say, cardiovascular complications, we are going to finance a stent in the coronary arteries, we are going to finance heart surgery. Do we really have to come to that? Wouldn't it be better to invest beforehand and prevent these complications from occurring?" asks the endocrinologist. Weevil is fighting for obesity to be recognized "as a real disease". Pharmaceuticals, meanwhile, are in another fight. They promise punctures for everyone. And to achieve this they are embarking on a lucrative career that promises to fill their pockets and empty our fridges.
Cristobal Morales is an endocrinologist at the Virgen de la Macarena Hospital in Seville. He has done more than 120 clinical trials on the GLP-1 receptor, which gives him a future perspective. Good news is coming over the phone: "In the future, the molecules that we are going to have are three times as effective as those we have now," he assures. Morales mentions the case of Wegovy, a higher-dose version, designed specifically for people with overweight and obesity problems. In the US it became tremendously popular after Elon Musk talked about its benefits. Denmark and the United Kingdom already market it. "We are waiting to launch it in Spain, we are the next country", advances the doctor.
There is another GLP-1 agonist drug, tirzepatide, which is already on the market in the US (and already has shortage problems). And another, known as CagriSema, which combines semaglutide with another drug and can make you lose more weight than its predecessors. The Danish Novo Nordisk (owner of Wegovy and Ozempic) leads the race and ensures that this year it will double the sales of the past. Investors believe so: its market capitalization has doubled in two years, reaching 326,000 million dollars (300,000 million euros), making it the second largest pharmaceutical company in the world. The third and fourth, Pfizer and Eli Lilly, are also developing new drugs.
Analysts speak of an "obesity gold rush" and consider that the GLP-1 market could reach 150,000 million dollars in 2031 (a figure similar to the profit of the largest oil company in the world or to what moves medicines for cancer).
According to Morales, the next three years will be crucial in this field. And they could change not only our weight but our relationship with food. The doctor is a member of the Spanish Obesity Society (SEEDO), so he is very aware of the way in which medicine and society treat overweight people. He assures that there is a tendency to blame the patient for a social, psychological, environmental problem… A complex problem that affects specific people, but has global consequences. According to the latest World Atlas of Obesity, the annual cost to the international economy of excess weight could reach four trillion dollars in 2035 (2.9% of world GDP, compared to 2.2% in 2019). The impact of these new medicines could be crucial in order not to reach these figures. And to improve, even save, the lives of millions of people.
You can follow THE COUNTRY Health and Well-being in Facebook, Twitter and instagram.


Source: EL PAIS