One day, suddenly, Adrian Hueso began to be bothered by light. Without further ado, the light made him uncomfortable, his eye watered, turned red, and intense pain began in the area that completely disabled him. He was 10 years old. "Maybe I was watching a movie or I was on the sofa with the blind open and we had to close it because the light bothered me. I remember that I would cry, I would even scream and the pain would wake me up at night", says the boy, who is now 12 years old. Adrian and his family wandered through the health network for months, with admissions and visits to various specialists, until they reached an accurate diagnosis: cluster headache, a rare clinical picture that, without proper treatment, can become very serious. limiting.
Headaches affect both adults and children, warns Patricia Pozo, neurologist and director of the Migraine Adaptive Brain Center at the Vall d'Hebron Hospital in Barcelona. She arrived, after many comings and goings through the health system, Adrian Hueso. "The important thing is to understand that in children there are these types of diseases, primary headaches. They are headaches that are not secondary to any other phenomenon, such as having a fever or having a blow. And within the primary headaches that can debut in childhood are, for example, migraine and cluster headaches ", explains the specialist.
Headaches are the most common type of pain in children and young people with effects on health-related quality of life, school attendance, and social functioning. And its presence among the child and adolescent population is high, according to the scientific literature. A study in Austria with about 3,400 students between the ages of 10 and 18 found a prevalence of migraine of 24%; tension headaches (when the muscles of the neck and that area are tense), 22%; and undifferentiated headache (lasting less than an hour), 26%. Another study in Spain estimated the prevalence of recurrent headache at 30.5% and a study in Germany with 2,700 people between the ages of 6 and 19 concluded that 37% had reported headache once a month.
Migraines are, together with tension headaches, the most common, according to Ana Camacho, president of the Spanish Society of Pediatric Neurology. The former, she points out, "are very frequent in the pediatric age", with a prevalence of up to 15% before the age of 15. "There are differences to the manifestations in adults. They tend to have a shorter duration. [entre media hora y dos horas, cuando en los adultos pueden ser de entre cuatro y 72 horas] and describe frontal and lateral pain. But they also have a rejection of light and it is a headache that prevents them from continuing with what is being done", explains Camacho. In children, the pain is somewhat less intense, Pozo adds, but it is usually accompanied more frequently by other symptoms, such as vertigo, nausea or dizziness.
"I saw little lights"
Carol Vidal, 10, started with headaches after the pandemic. Every week, she would have two strong episodes, recounts her mother, Sonia Matias: "Some episodes caused her to vomit and feel unwell. She explained that she saw little lights ". These are known as auras, explains Pozo: "They are visual, sensory or language symptoms that occur before the pain and people stop being able to see, notice or speak. The image is destructured in a very curious way, which starts in the center and then goes outwards, like a frosted glass".
Pozo maintains that migraine is a "genetically mediated" ailment. That is, the child is already born with a genetic predisposition to suffer from this condition. "It is a neurosensory disease. It is an excitable brain, more sensitive and that, probably, enters into a system disruption due to some triggers such as fatigue, schedule dysregulation or stress. There is a significant hormonal impact and then there is a vascular-inflammatory condition: they have arteries that are more permeable, more elastic, more flexible and that make it easier for everything to ignite more easily, which is what ends up hurting". A person is considered to have a migraine when they suffer from at least five episodes throughout their life.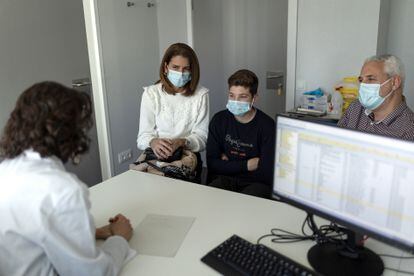 Carol was diagnosed with a migraine, like her mother, who has suffered from it since she was 15 years old, although her diagnosis reached 21. The girl, who is already undergoing treatment and has received training "so that they do not go further," says the Mom, it has improved. She now has one or two episodes a month and paracetamol is enough to treat them.
The therapeutic approach to childhood migraine is similar to that of adults. It is based on an immediate response to attacks — from simple analgesics if the attack is milder, to anti-inflammatories and triptans in more severe episodes — and "sleep," adds Pozo, because if they sleep after the attack they recover better. If there are more than three attacks a month, adds the neurologist from Vall d'Hebron, doctors already offer the patient preventive treatment, to prevent these episodes of pain or limit their intensity: "There is the same as in adults. It would be amitriptyline [un antidepresivo]propranolol [un beta bloqueante] and, in serious cases where the pain becomes chronic, I like to use botulinum toxin".
Doctors also recommend—and remember—healthy lifestyle guidelines to prevent episodes, such as getting plenty of rest and keeping regular hours. Precisely, a Spanish study indicated that headaches were more frequent in those children who had poorer sleep hygiene, those who did not eat breakfast, those who smoked, those who did less physical activity or those who used to consume caffeine.
More exceptional headaches
Camacho assures that migraine and tension headache are "common reasons for consultation" and are diagnosed without many problems, but he admits that there are more exceptional headaches, whose diagnosis can be more complex if they have not been seen before. The type of headache that Adrian suffers, for example, is much rarer. "Cluster headache is already rare in adults and in minors it is almost exceptional," explains Camacho.
Before the diagnosis, Adrian had a couple of admissions without a clear diagnosis, recounts his mother, Marisa Ramos: "The crises were increasing in frequency and intensity. We were on vacation at Easter, he was playing football with his friends and he came running: 'Mom, lower the blind, my head hurts.' He was confused, he didn't know what was wrong with him and we started to worry because he was out of nowhere". In the first visits to the emergency room, the parents report, the doctors attributed the headaches to "school stress" because the term had just ended, but the pain continued to increase weeks later. They ruled out tumors and ended up giving him pain medication to treat what they called a "severe headache." But the outbreaks continued. "He spent the entire third quarter of fifth grade without going to school or training basketball. He was totally disabled, "says his father, Antonio Hueso.
The episodes of pain did not stop due to the "impotence" of the family, recalls the mother: "The first time he described it to me as if he was being hit with a hammer, literally, in the right eye. That's what he told me: 'Mom, it's like I'm getting hammered in the right eye.' Dr. Pozo remembers that when Adrian arrived at his office, the little boy was "sad, turned off, rejecting the world in his own way" because no one really understood what was happening to him or gave him a solution. The neurologist gave his headache a name: cluster headache, a rare ailment that manifests itself in bouts of very intense pain. Adrian got to have eight a day.
The shoots last between three weeks and three months. And every day, the patient can have between one and eight attacks a day. "The duration of the intense pain does not exceed half an hour, although it can reach two hours. Normally they are strictly unilateral and, unlike migraine, the behavior is more agitated than calm during the attack", says Pozo. There may also be, as in the case of Adrian, swelling in the eye or tearing.
The treatment of cluster headaches has points in common with migraines: triptans and anti-inflammatories can help, "although sometimes you have to take too many in one day," Pozo clarifies. "Verapamil can also be given [un bloqueador de los canales de calcio] as preventive treatment and amitriptyline to enhance and facilitate rest. And how [Adrian] It didn't quite improve, we ended up putting a little botulinum toxin". Home oxygen is also a therapy used to treat the attack.
After an "odyssey" of several months in search of answers, says the mother, Adrian improved with the treatment prescribed by Pozo. Since November 2021, he has not had any more seizures and was able to return to school and basketball training. "The late diagnosis generates stress in the patient and his family. And Adrian's initial outbreak, which began in April, we did not manage to control it until November", says the neurologist from Vall d'Hebron.
Pozo stresses the need to make visible that these types of ailments are also possible in the smallest. Even infrequent pictures, such as cluster headache. Precisely, the Spanish Society of Neurology (SEN) has developed diagnostic guidelines for headaches in adults and children for primary care and also for emergency services to facilitate the detection of one or another headache. Ruling out whether it is, first, a primary headache (such as migraine) or a secondary one (caused by an infection, for example) is key to giving an adequate therapeutic response. According to the SEN, 30% of the cases consulted in Spain for childhood headaches are associated with trivial infections, between 25% and 30% are tension headaches, up to 20% are migraines and less than 5% are linked to severe conditions. such as central nervous system infections or tumors.
You can follow THE COUNTRY Health and Well-being in Facebook, Twitter and instagram.


Source: EL PAIS